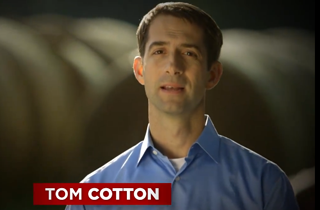 Yesterday, the Daily Beast discovered through unknown means that an ad for GOP Arkansas Senate candidate Tom Cotton, an ardent social conservative, was appearing on Grindr, a social app for gay dudes.
The ad itself had the National Rifle Association's logo on it, and appeared to be sponsored by the advocacy group (Cotton's people said that they did not place the ad). But in comments to CNN, the NRA vehemently denied that they ran the ad on Grindr, and that their third party marketing firm didn't run it there, either. (And, frankly, this story is worth it simply for the official statement on record: "The NRA did not purchase ad space on Grindr.")
And even the marketing firm in charge of the NRA's ads denied it was them. Brett Buereck, who runs the digital advertising campaign for Tom Cotton, told CNN that this looks Photoshopped, and that he could tell from some of the pixels and from having seen a few shops in his time:
Buereck also adds that the black bars and the missing pixel column are evidence of the image being cropped and manipulated. The firm also did an error level analysis on the images, comparing an undoctored screenshot with the doctored one. You can see in the images, which were provided by Buereck's team, that error levels indicate possible manipulation – showing how colors have been compromised.
This definitely looks shopped.
[h/t CNN]
[Image via Tom Cotton for Senate/Facebook]
—
>> Follow Tina Nguyen (@Tina_Nguyen) on Twitter
Have a tip we should know? tips@mediaite.com