NYPD Commish: Hard to Hire Black Cops Because 'So Many Have Spent Time in Jail'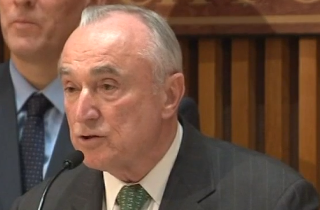 According to New York City Police Commissioner Bill Bratton, the reason black males are underrepresented by the city's police force is because so many would-be recruits have served jail time.
In an interview with The Guardian, Bratton addressed the gap by saying: "We have a significant population gap among African American males because so many of them have spent time in jail and, as such, we can't hire them."
Indeed, data updated by the New York Times earlier this year shows that the New York Police Department is 21 percentage points more white than its residents. Only 16% of the NYPD is black, while the city's population is 23% black, suggesting a slight racial gap in the force. That being said, the NYPD is actually quite diverse compared to many other police departments, partially due to court-ordered mandates.
More from the Guardian write-up:
A complicating factor is what Bratton calls the "unfortunate consequences" of an explosion in "stop, question and frisk" stops in the last decade that caught many young men of color in a summons net.

Those summonses are not automatic disqualifications. However, after passing the exam, a candidate moves to the more subjective background investigation, which includes criminal records. A pot arrest without indications of gang activity might not disqualify a candidate, but a series of summonses could. As a result, Bratton is concerned that the "population pool is much smaller than it might ordinarily have been".
One of the most common arguments against the drug war — especially in urban areas — is that by disproportionately arresting and punishing young men (mosty black males) for nonviolent drug-related crimes, local governments create a cycle of poverty, sealing off potential opportunities. It appears as though Bratton acknowledges that some of those opportunities could be… joining law enforcement.
— —
>> Follow Andrew Kirell (@AndrewKirell) on Twitter
Have a tip we should know? tips@mediaite.com