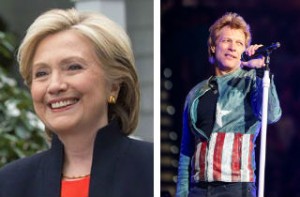 According to an invitation posted on Hillary Clinton's campaign website, the 2016 presidential hopeful is coming to New Jersey on June 29 for an "Evening with Hillary" fundraising event. Nothing too special about this — candidates criss-cross the country all the time (if they can afford it) to raise money and awareness for their ticket.
However, this stop is special because it's hosted by Bon Jovi rocker Jon Bon Jovi and his wife Dorothea. The famous New Jersey musician will even put on a "special performance" at the event.
Considering Bon Jovi's repertoire of song titles, it behooves us to try and advise the singer on his set list for the fundraiser. Why? Because there's probably a few titles he shouldn't play — that is, unless he wants us to cover the event's unwanted virality the following morning.
—
"Lie to Me"
Between the House Select Committee on Benghazi and the related treasure trove of private emails, the last thing Clinton should want is to further her unwanted image as yet another lying and scheming D.C. insider. A simple way to avoid this? Don't play "Lie To Me," the band's 1995 lovelorn ballad about, erm, lying.
—
"No Apologies"
In addition to the hit songs on 2010's Greatest Hits album, Bon Jovi recorded four new tracks for the release. One of these was "No Apologies," an anthem-like tune that, much like "Lie To Me," would most likely be misinterpreted by Clinton's detractors.
—
"You Give Love a Bad Name"

Obviously, most fundraiser attendees will want you to play your band's greatest hits. Hair metal being what it is, "You Give Love A Bad Name" will definitely be a request. On the one hand, it sure would be fun to watch a crowd of wealthy well-to-dos rage out when you initially sing the first line, "Shot through the heart." However, there's a chance Bill might take offense.
—
"Wanted Dead or Alive"

Like the previous entry, another one of your classic songs might hit a little to close to home for the Clintons. However, this one's a bit of a throwback to Hillary's questioning at the hands of investigators regarding the 1994 suicide of Vince Foster — a favorite of conspiracy theorists.
—
[h/t NJ.com]
[Images via Hillary Clinton/Facebook and Shutterstock.com]
— —
>> Follow Andrew Husband (@AndrewHusband) on Twitter
Have a tip we should know? tips@mediaite.com