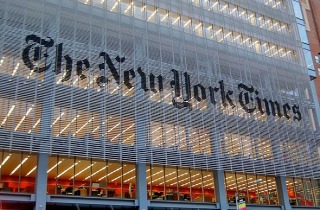 New York Times public editor Margaret Sullivan blasted the paper's own review of Glenn Greenwald's new book, and today Sullivan posted a response from the reviewer, Michael Kinsley, who took strong exception to her arguments against his piece.
Sullivan was particularly perturbed at Kinsley's apparent argument about the government being able to have the final say on whether certain documents should be released, calling that the antithesis of a free and independent press. Kinsley writes that Sullivan completely misrepresented his argument, and takes issue with her characterizing his "sneering tone" in the review. He says, "I assure her that I can sneer a lot worse than that if called upon to do so."
And he really goes after Sullivan in his rebuttal, made all the more stunning when you consider Sullivan published this herself in her own column space. Here are two key selections:
When Sullivan says, "there clearly is a special role for the press in America's democracy…and the United States courts have consistently backed up that role,"–and when she offers those vague cliches as serious analysis, she is talking through her hat. The Supreme Court has repeatedly turned down opportunities to create a "journalist's privilege."
Sullivan says my review is "unworthy of the Book Review's high standards." That is meant to sting, and it does. You might even call it a sneer, if the public editor weren't above such things.
You can read Kinsley's full rebuttal here.
[h/t TPM]
[image via Haxorjoe]
— —
Follow Josh Feldman on Twitter: @feldmaniac
Have a tip we should know? tips@mediaite.com
Josh Feldman - Senior Editor