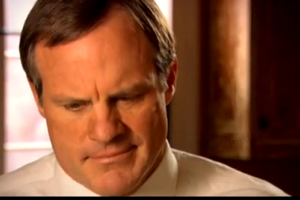 Before the 2010 midterm elections really kicked into gear, would anyone have guessed that Alabama would be the state to best employ Internet memes in political campaigns? Alabama has compiled an impressive repertoire of strange, eye-catching videos that have put the candidates in the national spotlight and, as the New York Times' Gail Collins notes, made the state of Alabama go viral.
Collins notes that there is a rising trend to make viral videos a central part of campaigns beginning with the release of "Demon Sheep," though Alabama has perfected the medium. "There is quite a lot of this sort of thing going on this campaign season," she notes. "You raise enough cash to film an outrageous ad. Then you post it on the Web and pray that it goes viral, gets mentioned on the cable talk shows and draws in enough donations to put the thing on TV." And it's giving candidates that didn't previously have much of a chance a great shot at winning their party nominations, especially in Alabama.
Collins points out the successes of Alabama candidates Dale Peterson and Tim James after their idiosyncratic videos became national sensations. Describing the Peterson (who is running for Alabama secretary of agriculture) ad as "the overall effect is like being cornered at a party by an eccentric neighbor who thinks the garbage man is spying on him for the federal government. It's extremely popular."
For James, a gubernatorial candidate who went from straggler to one of several front-runners after his "Language" ad (opposing giving drivers' license tests in different languages) went viral, the ad became the centerpiece of his campaign's success. Chronicling the campaign's problems before the ad, Collins argues:
But I cannot emphasize how totally beside the point all that is. "Language" went viral. "This is the first election in a long time where the fate of the campaign really did change on a single ad," said David Lanoue, chairman of the University of Alabama political science department.

James is now one of the front-runners, despite a last-minute crisis involving a rumor that he believed the state was spending too much money on the University of Alabama football coach, who makes $4.1 million a year. Which James vigorously denied wanting to cut. It's the businessman in him.
She also gives us some fascinating trivia. For example, did you know that it was actually the man behind "Demon Sheep" who came up with "Language"? Given that the ad actually does have some serious cinematography– James pops up sometimes unexpectedly from behind doors and even uses the advanced "Kinski spiral" cinematography technique to add tension and mystery to the scene– it makes sense that it would come from the mind of a professional.
The campaigns of both have continued as scheduled, with Peterson so proud of his ad that he has a "The Man Behind Our Viral Campaign Ad" page on his website and James cranking out a new ad close to every week (he even leaves the house in this one). With Alabama primaries scheduled for next Tuesday, expect even more wacky online antics as Election Day nears, as they seem to be working like a charm.
Have a tip we should know? tips@mediaite.com