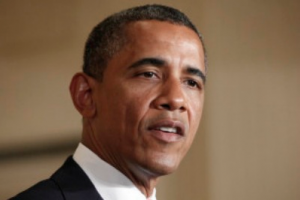 As you may know, President Barack Obama's recent off-the-record endorsement interview with the Des Moines Register went on-the-record today, when the campaign released it after the editor penned a blog post on the matter. In the interview, Obama said if he wins a second term, it will largely be because of Latinos — a community Republicans have alienated.
RELATED: Iowa Newspaper Reveals Obama Refused To Go On Record During Endorsement Interview
The interview was took place under the condition that everything was off the record. But on Tuesday, the Register called on Obama to make his remarks public, arguing that voters deserve to see the conversation. On Wednesday, the campaign released the transcript.
In it, asked about how to "implode this partisan gridlock," Obama answered with goals he's confident he'd establish if given another four years.
"The second thing I'm confident we'll get done next year is immigration reform," Obama told the paper.
He continued:
And since this is off the record, I will just be very blunt. Should I win a second term, a big reason I will win a second term is because the Republican nominee and the Republican Party have so alienated the fastest-growing demographic group in the country, the Latino community. And this is a relatively new phenomenon. George Bush and Karl Rove were smart enough to understand the changing nature of America. And so I am fairly confident that they're going to have a deep interest in getting that done. And I want to get it done because it's the right thing to do and I've cared about this ever since I ran back in 2008.
About other goals, the president spoke of infrastructure investments and corporate tax reform — also underlined his desire to tackle fuel-efficiency standards and support for alternative energy sources.
Have a tip we should know? tips@mediaite.com