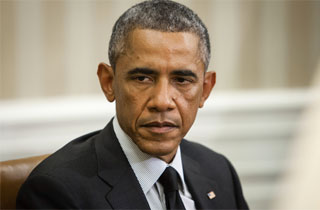 According to the Wall Street Journal, Barack Obama has been sending secret letters to Iran's Supreme Leader Ayatollah Ali Khamenei, expressing a "shared interest" in fighting the threat of the Islamic State of Syria and Iraq (ISIS), and not-so-subtly hinting at America's desire for Tehran to reconsider its nuclear program in return for their assistance.
In the letter, whose existence was not revealed to key allies in the Middle East,, Obama offered Khamenei assistance to push ISIS out of territories it has gained in Syria and Iraq, and which currently threatens Iran's borders. However, this deal would be contingent upon Iran accepting a deal to dismantle its burgeoning nuclear program.
From the WSJ:
The State Department has confirmed that senior U.S. officials have discussed Iraq with Mr. Zarif on the sidelines of nuclear negotiations in Vienna. U.S. diplomats have also passed on messages to Tehran via Mr. Abadi's government in Baghdad and through the offices of Iraq's Grand Ayatollah Ali al-Sistani, among the most powerful religious leaders in the Shiite world.

Among the messages conveyed to Tehran, according to U.S. officials, is that U.S. military operations in Iraq and Syria aren't aimed at weakening Tehran or its allies.

"We've passed on messages to the Iranians through the Iraqi government and Sistani saying our objective is against ISIL," said a senior U.S. official briefed on these communications. "We're not using this as a platform to reoccupy Iraq or to undermine Iran."
The full report is below (subscription only).
[WSJ]
[Image via Mykhaylo Palinchak / Shutterstock.com]
—
>> Follow Tina Nguyen (@Tina_Nguyen) on Twitter
Have a tip we should know? tips@mediaite.com