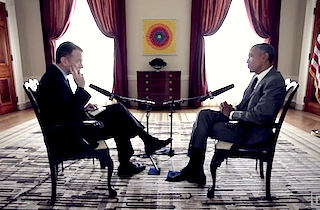 In an NPR interview released Tuesday morning, President Barack Obama told Wisconsin Governor and probably 2016 contender Scott Walker (R) to chill on the grand foreign policy statements until he'd had a chance to study up.
Walker has been criticized as a foreign policy neophyte, especially after he called Ronald Reagan's destruction of the Air Traffic Controller's Union "the most significant foreign policy decision" of his lifetime. He has threatened to nix any Iran nuclear deal Obama negotiated, regardless of the desires of U.S. allies.
"I am confident that any president who gets elected will be knowledgeable enough about foreign policy and knowledgeable enough about the traditions and precedents of presidential power that they won't start calling into question the capacity of the executive branch of the United States to enter into agreements with other countries," Obama told NPR's Steve Inskeep.
RELATED: Reagan Biographer Knocks Scott Walker: 'Reagan He Ain't'
"If that starts being questioned, that's going to be a problem for our friends and that's going to embolden our enemies," he continued. "It would be a foolish approach to take. And perhaps Mr. Walker, after he has taken some time to bone up on foreign policy, will feel the same way."
This is the second time in a month Obama has gone after Walker specifically; last month he criticized the governor over the passage of a so-called "right to work" bill in Wisconsin.
Watch the clip below, via NPR:
[Image via screengrab]
——
>> Follow Evan McMurry (@evanmcmurry) on Twitter
Have a tip we should know? tips@mediaite.com