Ohio Cop Suspended for Complaining About 'Monkeys' on Facebook, Says He Isn't Racist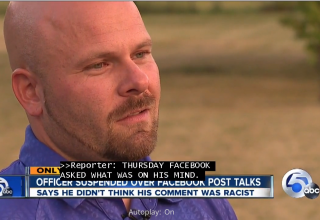 An Ohio police officer has been suspended after posting a Facebook status complaining about 'monkeys' while working at the department. Sgt. Robert Biddle was suspended, however, not for the racist slur, but for posting on Facebook while at work. He posted, "Been at work for ONE HOUR and the monkeys have already exceeded their limit of snark I'm gonna take for the night. PUMP THE BRAKES, MONKEYS!"
Needless to say, lots of outrage has ensued.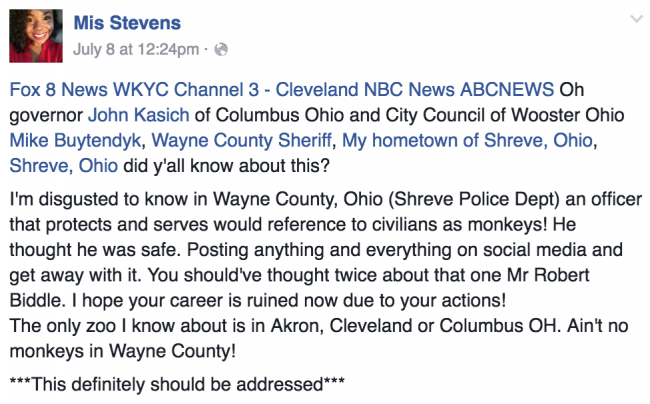 Beyond these complaints, the post has been shared hundreds of times and many people who have seen it have written statuses about it. However, Biddle insists that his statement was not meant to be racist.
"I call my wife monkey. Unfortunately, it's a term I'm going to have to learn not to use. I've learned now, the timing was really bad," Biddle said per WEWS-TV.
While many have been quick to condemn his post, some of Biddle's superiors have defended him.
"I'm sure there was nothing racist meant by that post, because he's just not like that. During the 11 years I've worked with him, I've never heard him make a racial slur and we've never had a complaint," said Police Chief Ron Kiner.
The Mayor of Shreve also defended Biddle.
"I think it all got blown out of proportion because of everything that was going on in the world. I have zero tolerance for that. If I even had an inkling that it was (racist), he would have been gone, but I'm 100 percent sure it wasn't," said Mayor Yvonne Hendershott.
Biddle has been placed on indefinite unpaid suspension while the case is settled.  However, one of the interesting parts of this story is that the only call that Biddle had to respond to that night was a white woman who complained of abdominal pain. Biddle previously had no disciplinary actions on his file. When asked about his comments, Biddle apologized for his post:
"I am sorry, I really am. It wasn't meant to come off that way. I'm not that kind of person, and I'm sorry that I've hurt people in this. But please give some benefit of the doubt that I'm telling the truth."
[h/t Raw Story]
Have a tip we should know? tips@mediaite.com