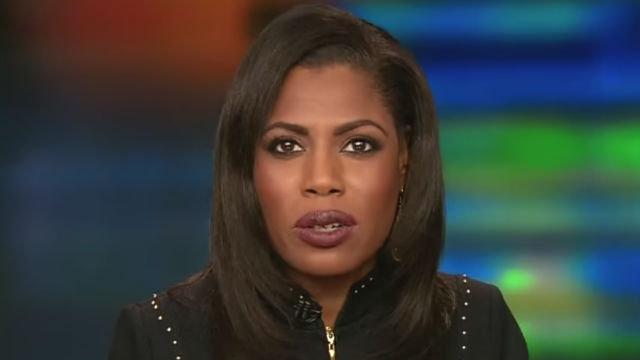 Former White House official Omarosa Manigault, who has made headlines in her post-administration life for bashing both President Donald Turmp and VP Mike Pence, appeared to mock the president's hair this morning, tweeting then quickly deleting a post featuring the dictionary definition of "toupee."
Omarosa's now-deleted tweet included the caption "#theWorse," along with screenshot of the Google search definition of the word: "A small wig or artificial hairpiece worn to cover a bald spot."
Omarosa tweeted, then quickly deleted, the dictionary definition of "toupee" pic.twitter.com/c2zNRQPQWZ

— Lachlan Markay (@lachlan) March 5, 2018
The post comes after speculation reignited over the state of Trump's hair after video was captured of the president walking into Air Force One with the wind blowing his signature golden locks all over. Some claim the clip revealed Trump's "bald spot" — an issue he addressed while speaking at the large conservative gathering CPAC.
"By the way, what a nice picture that is," said Trump regarding an image of himself speaking projected onto a screen. "Look at that. I'd love to watch that guy speak."
He then turned around and modeled his hair for the audience: "Oh, I try like hell to hide that bald spot, folks. I work hard at it. It doesn't look bad. Hey, we are hanging in, we are hanging in, we are hanging in there. Together, we are hanging in."
As for Omarosa, the former Apprentice contestant turned White House official was ousted from the administration in early 2018 after chief of staff John Kelly took issue with some of her questionable conduct. She then took her talents tot he reality TV series Celebrity Big Brother.
While appearing on the show, Omarosa has repeatedly attacked her former bosses by saying she wouldn't vote for Trump if he were to run again, calling Pence's views "scary," and even describing her departure from the White House to the feeling freed slaves experienced.
"Ooh, freedom, I'm emancipated. I feel like I just got freed off of a plantation," said Omarosa in her last episode on the show.
[images via screengrab]
Follow the author on Twitter (@calebecarma).
Have a tip we should know? [email protected]