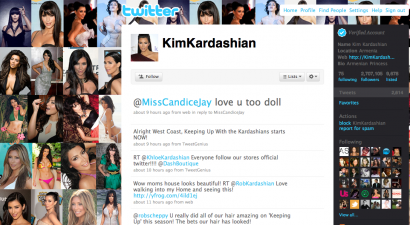 For those who follow the online economy, especially journalists and bloggers, CPMs reign supreme — and for everyone else, they hardly register. But the CPM figure, described by Ad Age as "the term ad buyers and sellers use as shorthand for the cost for 1,000 impressions," will come to dictate a lot about the quality of content readers will get online moving forward.
Today, Ad Age has an in-depth infographic detailing which websites command the highest ad rates today, as impressions skyrocket, threatening the worth of CPMs — a shaky metric from the start. In his piece, Michael Learmonth writes, "And while the recession has put another hit on CPMs … across the web, some sites can still pimp fat ad rates either by virtue of their reach, specialized audience or unique environment."
Let's run down some of his findings, and you can see more telling examples by reading the whole piece here:
Business sites with loyal followings are online gold mines
Economist.com $91 CPM — audience of 800,000
The audiences may not be huge, but advertisers tend to chase status and influence. Here, a niche product, often with a subscription model, can break free of industry norms.
Big media, big prices
AOL Homepage — $800,000 per day
Internet giants have the sheer numbers to ask what they want of advertisers, and older, less plugged-in audiences tend to click more, making sustainability questionable as click-through rates continue to decline.
Video is key
YouTube Homepage — $400,000 per day (with video)
Flashiness is appealing, but even more so is the idea that viewers can't TiVo through their spots.
Youthful, influential readership and opt-in equals dollars
Daily Candy $70 CPM For Daily Email "young, urban, opt-in consumers"
Like a subscription model, "opt-in" content, like a daily newsletter or paywall site, ups the ad ante.
At the end of the day, it's not the content, it's the audience
Kim Kardashian makes $10,000 per tweet to her 2.7 million followers
As depressing as that reality is, it speaks to the shakiness of the whole system. No matter how focused the content or how technologically advanced the pop-out, screen-hogging spots are, a simple link from a celebrity spokesperson brings in more for far less work. Does that mean that online content is worthless? More likely, it just means the system is broken — or at least, not the way of the future. Or so we hope.
Who Gets the Highest Ad Rates Online? [Ad Age]
(h/t Kelly Evans)
Have a tip we should know? [email protected]