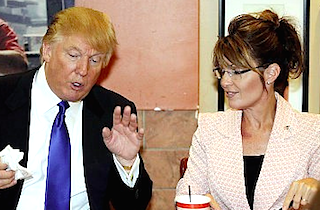 Sarah Palin heard Donald Trump's call loud and clear and she is in. Earlier this week, Trump said he would "love" to have Palin as part of his hypothetical presidential cabinet, calling her a "special person" who "everybody loves." He then proceeded to hire her former chief of staff to join his campaign team.
On Friday, Palin responded with an "exclusive" column on Breitbart, which also appeared in full on her Facebook page, and did little to hide her overwhelming enthusiasm about her big opportunity to join Team Trump.
"What a hoot to watch pundits clutching their pearls and whimpering for smelling salts aghast over the latest 'shocking' thing Donald Trump said, while The Donald ignores them and continues to soar," Palin began. "Silly kingmakers just don't know what to make of this. Well, we do!"
Below are some of the other unabashedly positive things Palin had to say about her potential new boss:
"Everywhere I've gone this summer, including motorsport events in Detroit full of fed up Joe Six-Pack Americans, the folks I meet commiserate about wussified slates of politicians, but then unsolicited, they whisper their appreciation for Trump because he has the guts to say it like it is."
"Trump's unconventional candidacy is a shot in the arm for ordinary Americans fed up with the predictable poll tested blather of squishy milquetoast career politicians who campaign one way and govern another."
"Trump has tapped into America's great populist tradition by speaking to concerns of working class voters."
"For everyday Americans the beauty of Trump's candidacy is that he's not a politician."
"Like so many great American entrepreneurs, Trump has the flair of a showman but the sensibilities of an ordinary guy. He may be a billionaire, but refreshingly, there's nothing elitist about him."
"More power to you, Donald. Here's to 'Making America Great Again'!"
She even threw in a plug for his book, The Art of the Deal
, gave him a pass on past donations to Democrats and compared him to Reagan — twice.
It's clear that for some reason Palin sees a bit of herself in Donald Trump, a candidate who has no real chance of getting elected to higher office, but nonetheless has captured the imagination of a country that enjoys reality TV-style spectacle above all else.
When Trump dropped her name — during an appearance on Mama Grizzly Radio's The Palin Update, no less — the former Alaska governor saw her best chance to get back in the political game. All she has to do is flatter Trump to the degree that he will let her ride his coattails all the way to… well, not the White House, but maybe a renewed Fox News contract?
[Photo via screengrab]
— —
>> Follow Matt Wilstein (@TheMattWilstein) on Twitter
Have a tip we should know? tips@mediaite.com