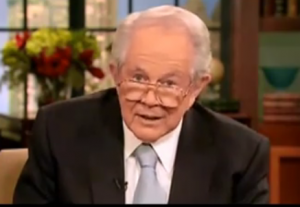 Pat Robertson, founder of the Christian Broadcasting Network (CBN), appeared on the 700 Club to reveal his annual list of predictions that "the Lord" shared with him. In addition to our country being "in grave peril," Robertson warned America will be led into bankruptcy and "in two years, will come a time of reckoning." Let the good times roll.
Fans of Robertson should not fear though, because in the midst of armageddon he added that "CBN will prosper, Regent (the university founded by Robertson) will prosper" and in a needed moment of levity suggested "the ACLU will be needed like never before." The ACLU is clearly something Robertson thinks is not particularly needed and instead quickly corrects his statement to refer to ACLJ, the American Center for Law and Justice, Robertson's legal group. Robertson's preview also included the following warning:
Your creditors will demand payment, and there will not be enough to satisfy their claims. Your currency will shrink in value; your bonds will lose value. People on fixed incomes will suffer. Unemployment will escalate, and there will be turmoil. And God says I will protect my people, but he says warn them now about what is coming. Tell them to get out of doubt and restrict purchases.
And in case the larger message wasn't received by his viewers, Robertson concluded "it will not be a time of happiness." Happy new year everyone!
Watch the clip from the 700 Club below:
Have a tip we should know? tips@mediaite.com