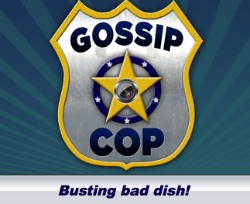 Gossip Cop, our celebrity-lovin' sister site, gave us a peek at its 2010 numbers, to which we immediately reacted by murmuring "no one likes a show off" over our hot cup of coffee. It's entertainment and gossip! How hard could that be? Then we actually took a look at how the numbers compared to those of several major tabloids and entertainment news shows. We wondered, what did these numbers mean for the nature of celebrity gossip and the way readers – both of print and online publications – and TV viewers consume their celebrity news?
First, let's take a look at the numbers themselves:
Gossip Cop brought in 1.46 million unique visitors in December (a tough month for news, as anyone working in media will tell you).
according to Quantcast (as of yesterday), other sites in category have the following traffic:
Extra gets 434,000 uniques a month
In Touch Weekly gets 150,000 uniques a month (not even 1/10th of Gossip Cop's traffic)
Life & Style gets 212,000 uniques a month (1/7th of Gossip Cop's traffic)
National Enquirer get 434,000 uniques a month (more than 1 million fewer than Gossip Cop)
Star magazine gets 385,000 uniques a month (more than 1 million fewer than Gossip Cop)
OK magazine gets 1.4 million uniques (the mag, which is part of the Buzz Network and the international OK! empire, has exactly the same traffic as Gossip Cop)
Deadline gets 1.3 million uniques (100,000 fewer than Gossip Cop, though virtually even)
The Wrap gets 500,000 uniques (900,000 fewer than Gossip Cop)
Not too shabby. Let's take a look on how Gossip Cop fared on Twitter: As of this posting, the site boasts over 41,500 Twitter followers. Meanwhile…
Entertainment Tonight has 39,000 Twitter followers
The Insider has 8,600 Twitter followers
Radar Online has 16,000 Twitter followers
Nikki Finke has 35,600+ Twitter followers
Which is all very well and good, but… what does this mean? Our guess is that Gossip Cop, which devotes itself to "policing Hollywood and celebrity news," caters to a new kind of consumer who – like a Mediaite reader – knows full well that standard tabloid fare should not always be believed to be true (we are sure that they are also savvy, smart and incredibly attractive).
Tabloid magazines and entertainment news shows often neglect to take note of their audience's status as insiders themselves.
The American public is still interested in celebrities. Maybe the secret with Gossip Cop is that it isn't actually a gossip site but rather a media and news site that successfully reports on personalities that we love to read about in a fair and entertaining way. Shocking!
Yes Gossip Cop is our sister site, and we may be biased. But that doesn't mean we can't also be very proud of the site and top cop Michael Lewittes's accomplishments.
Have a tip we should know? tips@mediaite.com