Patriots Tight End Martellus Bennett Plans to Skip Celebratory Visit to White House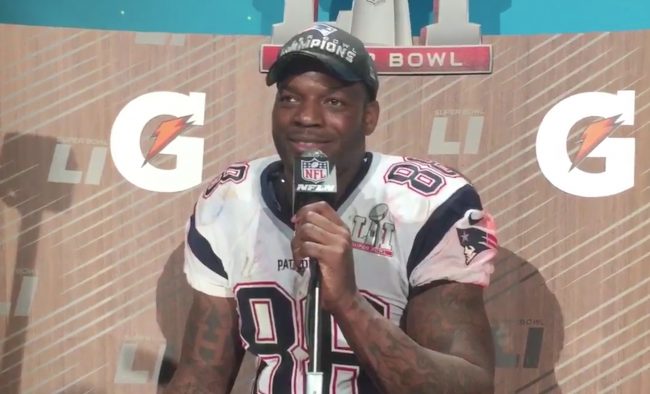 There's no denying that New England Patriots Tight End Martellus Bennett was a crucial part of the team's come-from-behind stunning victory last night in Super Bowl LI; after all, the 29-year-old hauled in five catches for 62 yards, including one third down grab in the fourth quarter for 25 yards with his team down 28-9. And today, Bennett is walking on air, celebrating his first championship in a career that has already spanned four teams.
But when the Patriots inevitably visit the White House later this year to celebrate alongside President Donald Trump, don't expect the Super Bowl hero to make the trip.
Bennett told reporters that he plans on skipping the visit to our nation's capitol, large in part to his personal view of the new administration. "It is what it is, people know how I feel about it," Bennett said. "Just follow me on Twitter."
Bennett is one of the league's most outspoken players, and certainly one of the most unconventional ones too. He recently authored a children's book called "Hey A.J., It's Saturday!," an interactive story book that the thundering tight end even narrated himself.
Patriots TE Martellus Bennett said he will not go to the White House to honor Super Bowl win. Not worried about what his owner thinks.

— Brandon George (@DMN_George) February 6, 2017
Bennett recently told Brandon George of the Dallas Morning News that politics does not work it way into the Patriots locker room however, saying, "You just don't bring that to work. We all have our beliefs. We accept people for who they are."
Of course, Bennett's personal views of POTUS seem to be in stark contrast to some other high-profile names in the organization; Super Bowl MVP Tom Brady, owner Bob Kraft, and head coach Bill Belichick have all voiced their support for the President, and the Commander in Chief himself has not been hesitant to shout them out from time to time.
Bennett, who celebrated this morning by updating his Twitter bio to reflect the team's latest historic accomplishment, said late Sunday, "I haven't thought about it. I am not going to go." He continued, "I can elaborate later on in life."
Bennett has used the platform of his celebrity before to bring awareness to the social issues that he most cares about; earlier this season, he and teammate Devin McCourty raised their fists during the National Anthem in solidarity with Colin Kaepernick (remember when HE was the story in football everyone cared about?).
Here are Martellus Bennett and Devin McCourty raising their fists for the National Anthem. Patriots, both. pic.twitter.com/rDilAEaCUj

— Robert Klemko (@RobertKlemko) September 12, 2016
Bennett said he is not concerned over what team owner Bob Kraft will think about his decision. The Patriots are expected to take part in a victory parade tomorrow in Boston to celebrate the fifth Super Bowl championship in the Brady-Belichick era.
Have a tip we should know? tips@mediaite.com