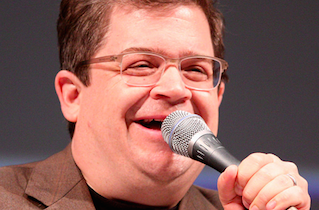 Patton Oswalt, stand-up comedian and proud member of the "click-bait club," announced in May that he would be taking a three-month hiatus from social media. He would no longer post intentionally controversial messages on Twitter, nor would he engage with the inevitable trolls that jumped on his every word. "I've become my own tyrant," he admitted.
As he explained in the Facebook post that announced his decision, he would still be using Twitter to promote stand-up shows and other projects he was appearing in, but would not be commenting on the news of the day. He kept it up through June and July, occasionally retweeting something from a friend or an article that mentioned him.
Then, the death of Robin Williams this week drove him to weigh in with this tribute, which was quickly retweeted more than 6,000 times:
"But doctor, I AM Pagliacci."

That's the only way this makes sense. Can't stand thinking of him being that sad. #RIPRobinWilliams

— Patton Oswalt (@pattonoswalt) August 11, 2014
Then, last night, Oswalt did what he had vowed to avoid when he weighed in on the unrest and police brutality in Ferguson, Missouri with a message directed squarely at the police there:
Dear #Ferguson PD: When the citizens peacefully asked you to do the right thing they didn't mean re-enact the Spike Lee movie.

— Patton Oswalt (@pattonoswalt) August 14, 2014
This one brought out some trolls, but mostly people who were happy to have Oswalt's voice back on Twitter:
Hey welcome back @pattonoswalt

— Stefan BC (@WretchedSnark) August 14, 2014
@pattonoswalt If there was a time we needed your voice, it is now

— Eric Han (@KengJuan) August 14, 2014
@pattonoswalt Good to see you back on Twitter…

— Brendan Smith (@blacksab67) August 14, 2014
The comedian only retweeted one of the responses, from a fan who pointed out he had presciently predicted the Ferguson situation all the way back in May:
@pattonoswalt called it three months ago: pic.twitter.com/gFM6f5dkW9

— Sweetie Bird (@SweetieBirdR) August 14, 2014
Oswalt is scheduled to "return" to social media on September 2.
[Photo via screengrab]
— —
>> Follow Matt Wilstein (@TheMattWilstein) on Twitter
Have a tip we should know? tips@mediaite.com