Petition On White House Website Calls For Rescinding PSY's Invitation To Perform At Obamas' Christmas Event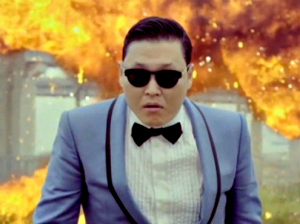 Following the unearthing of PSY's anti-American singing past, many are calling for the "Gangnam Style" singer not to make his scheduled appearance at President Obama's "Christmas in Washington" event. In addition to the slew of Twitter outrage, there's now a petition on the White House website.
RELATED: 'Gangnam Style' Singer PSY's Vitriolic Anti-American Past Revealed, Outrage Ensues
"We request President Obama rescind his invitation to the Gangnam Style rapper PSY to perform for him at the Christmas in Washington celebration this month because of the rapper's vicious anti-American song lyrics," the petition states, noting the lyrics PSY apparently rapped back in 2004:
Kill those fucking Yankees who have been torturing Iraqi captives
Kill those fucking Yankees who ordered them to torture
Kill their daughters, mothers, daughters-in-law and fathers
Kill them all slowly and painfully
The lyrics were from the song "Dear American," which was performed during protests in South Korea by PSY and other Korean musicians. The inspiration behind the performance was apparently the death of two Korean school girls who were run over by an American tank in South Korea (soldiers driving the tank were acquitted by a US military court).
"As commander-in-chief, how can Pres. Obama honor someone who calls for killing our troops and their families?" the petition asks. It currently has just over 300 signatures — but I expect that to rise significantly.
UPDATE: Looks like the petition has been removed. The link to the petition now brings up the following message:
Thanks for your interest in We the People, a new tool on WhiteHouse.gov that allows all Americans to ask the Obama Administration to take action on a range of important issues facing our country.

The petition you are trying to access has been removed from the site under our Moderation Policy because it is in violation of our Terms of Participation.

While you can't sign this petition, there may be other petitions on We the People on a similar issue that you'd like to add your name to. Or, you can create your own petition.
Have a tip we should know? tips@mediaite.com