Piers Morgan: Brussels Shows It's Time to Take Trump More Seriously on Terrorism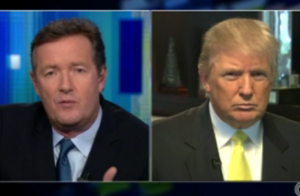 Terrorist attacks have a way of getting people to reevaluate important decisions about who they want leading the nation. Piers Morgan is one of them, but he's actually arguing Brussels shows it's time to take Donald Trump more seriously.
Yes, despite over 100 Republican national security leaders all saying in a letter that Trump is inconsistent, vague, and possibly dangerous on the issues concerning America's safety, Morgan's argument for Trump here is basically: hey, at least he has ideas.
In a column for the Daily Mail Online today, Morgan says he's sick of the "endless, senseless barbarism" that seems to show no signs of stopping any time soon. He directs fury at President Obama––who "has zero interest in doing anything tangible to really deal with ISIS"––and other world leaders who have not sufficiently tackled the threat of ISIS.
Morgan then recounts part of what Trump told him in an interview this morning. He writes, "He was, as you'd expect, bombastic, defiant and self-congratulatory. Why wouldn't he be? He's ripped up every political rulebook to take this presidential race by storm, a scenario that is hardly going to deflate the ego of New York's most cock-sure billionaire tycoon."
Morgan makes it clear he's not a fan of Trump's idea of a Muslim ban, but he admits he found himself "nodding more than I expect" at what he proposed:
I didn't feel I was talking to a lunatic, as many seem to view Trump.

I saw a guy, a non-politician unfettered by PC language restraints, who is genuinely furious at the devastation which ISIS is wreaking, and seriously concerned for the security of his fellow Americans and indeed, the citizens of Europe.
He's glad that Trump is trying to "punch back" against ISIS and said that even if people don't like Trump's ideas, at least he has some:
Hate Donald Trump all you like, but at least he seems to recognise the magnitude of the threat and at least he has firm proposals for how to try to defeat it.

They may not win him the Politically Correct Pontificator of the Year award. But how many more scenes like this morning's appalling images from Brussels are we going to tolerate before we try a non-PC option to beat these disgusting excuses for human beings?
[image via screengrab]
— —
Follow Josh Feldman on Twitter: @feldmaniac
Have a tip we should know? tips@mediaite.com
Josh Feldman - Senior Editor