Poll: Majority of Americans Support Authorization for Military Force Against ISIS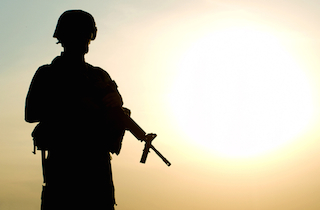 According to a new NBC News/Marist poll, a majority of Americans support President Barack Obama's proposed authorization for use of military force against ISIS, though a plurality have little to no confidence in Obama's strategy to defeat the Sunni militants.
54% of respondents said their representative should approve the AUMF, including 60% of Democrats and 52% of Republicans. (32% rejected the proposal.) 48% doubt Obama's strategy, though a vast majority believed the U.S. will ultimately triumph.
40% backed limited ground troop presence, with an even split over those favoring heavy U.S. ground troops and those believing the U.S. should not deploy ground troops at all. That's roughly consistent with the change in opinion last summer, which saw the public gravitate toward ground troops after ISIS' beheading videos and a deluge of war hawks on the Sunday shows.
Obama's AUMF describes the "limited" ground troops thusly:
The authorization I propose would provide the flexibility to conduct ground combat operations in other, more limited circumstances, such as rescue operations involving U.S. or coalition personnel or the use of special operations forces to take military action against ISIL leadership. It would also authorize the use of U.S. forces in situations where ground combat operations are not expected or intended, such as intelligence collection and sharing, missions to enable kinetic strikes, or the provision of operational planning and other forms of advice and assistance to partner forces.
YMMV as to how many units you could land within that definition.
Obama submitted the AUMF earlier this week, at which point it was criticized by the right for being too restrictive and the left for being too vague. The Obama administration has, of course, been leading military operations against ISIS for six months, arguing that the original 2002 AUMF still applied, but felt the effort would be bolstered by a renewed congressional approval..
[h/t NBC News]
[Image via Shutterstock]
——
>> Follow Evan McMurry (@evanmcmurry) on Twitter
Have a tip we should know? tips@mediaite.com