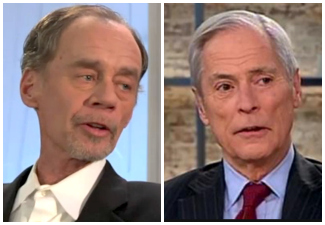 The late David Carr and Bob Simon had different beats but still had much in common: Both were classic, fearless, old school journalists who stayed at the top of their craft for decades, winning plenty of awards for their work… but more importantly, the respect of both their readers and those in the industry. And when the news came down only hours apart that both had suddenly died, "shock" would be an understatement in terms of reaction throughout the media world.
I wrote about Mr. Carr in this space just two months ago. As one of my favorite columnists out there because of his unique and invariably accurate take on the media landscape, he's only one of a handful of writers in my Google Alerts…just to ensure I never miss a Carr column.
In the case of my December Mediaite piece, you'll see I was amazed he came forward–under no duress to do so whatsoever–to admit he erred in not pursuing sexual assault claims against Bill Cosby in the past. And he didn't do so in a random tweet or throwaway line in a column on another topic, but by devoting an entire column to basically declaring his own judgment was flawed and unacceptable. From my December 15, 2014 column:
For those not familiar, Carr is a media writer who has worked at the Times since 2002. He's also the best-selling author of one the better memoirs you'll ever read, The Night of the Gun, which details his dark past as a cocaine abuser and how he was eventually able to overcome that addiction. In the Times, what makes Carr's columns so enjoyable is the candor and clarity he brings, the "candor" part most recently displayed when he admitted — without being pressured to do so in any capacity — he was wrong for not pursuing sexual assault claims against Bill Cosby in the past. Here's part of his column, Calling Out Bill Cosby's Media Enablers, Including Myself:

…those in the know also included me. In 2011, I did a Q. and A. with Mr. Cosby for Hemispheres magazine, the in-flight magazine of United Airlines, and never found the space or the time to ask him why so many women had accused him of drugging and then assaulting them.

We all have our excuses, but in ignoring these claims, we let down the women who were brave enough to speak out publicly against a powerful entertainer.

Again, Carr was under no obligation to write this confession; he wasn't shamed into it. You can agree or disagree with his perspective on other matters, but you can't call him a hypocrite.
In retrospect, I'm really glad I wrote that. In an email to staff, New York Times Managing Editor Dean Baquet called Carr "the finest media reporter of his generation." You won't find an argument from anyone on that sentiment anywhere. He died at only age 58 in the New York Times newsroom.
Bob Simon began his career as a war reporter in Vietnam in 1967 and was on one of the last U.S. helicopters to leave Saigon in 1975. Awards include 27 Emmys, a Peabody and an Emmy for lifetime achievement. When you watched him on 60 Minutes, you can see he possessed what every news correspondent only dreams of having: Poise, talent, instincts, curiosity, gravitas and a voice that made every story feel so important. But then on some random Thursday afternoon in what feels like the safest place in the world–the back of a Lincoln Town Car with a professional livery driver at the wheel–there was a horrific accident, and he was gone.
Looking for something to read this holiday weekend? The aforementioned Night of the Gun is absolutely gripping, as is 40 Days, a memoir penned by Simon about his length in captivity after being captured by Iraqi forces in 1991 at the beginning of Desert Storm while on assignment near the Saudi-Kuwait border. And for 24 of those 40 days, Simon was blindfolded, beaten and held in solitary confinement. He and his colleagues were also almost killed when the building they were held in (a military intelligence headquarters) took a direct hit from an allied bomb. If you love journalism and particularly the war reporting variety, this is the best way to get to know Bob Simon and what he was made of.
Journalism lost two titans in the span of a few hours on Thursday. Fortunately for us, their work and legacy will live on forever.
[Images via screengrab]
— —
>>Follow Joe Concha on Twitter @JoeConchaTV
Have a tip we should know? [email protected]