Poll: Two-Thirds Of Americans Predict Congress Will Act Like 'Spoiled Children' In Fiscal Cliff Negotiations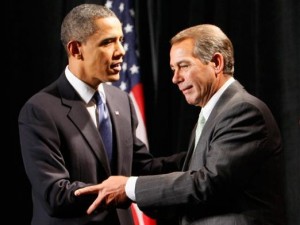 Americans aren't feeling good about the fiscal cliff. According to a new CNN poll, two-thirds of respondents said it poses a major problem — but are pessimistic, predicting Washington will behave like "spoiled children."
Two-thirds of respondents said "the U.S. would face a crisis or major problems if the country went off the 'fiscal cliff' at the end of the year." In the event that occurs, they further said Republicans would bear a greater portion of the blame.
On a negative note, while seven in ten Americans want compromise, about two-thirds predicted "Washington officials will act like 'spoiled children,' not 'responsible adults,' in the upcoming negotiations."
The poll also indicated that most Americans think a deal should consist of both spending cuts and tax increases. Per CNN:
Two thirds of those questioned in the poll say that any agreement should include a mix of spending cuts and tax increases, with just under one in three saying a deal should only include spending cuts.

Democrats questioned in the survey overwhelmingly support an agreement that has both, and six out of ten independents feel the same way. By a 52%-44% margin, Republicans also favor a mixture of spending cuts and tax increases instead of a deal that only includes spending cuts.

As for the sticking point between the parties over an increase in taxes for the wealthiest Americans, 56% say taxes on wealthy people should be kept high so the government can use their money for programs to help lower-income people, with 36% saying taxes on such high earners should be kept low because they invest their money in the private sector and that helps the economy and creates jobs.
Read the full report over at CNN.
Have a tip we should know? tips@mediaite.com