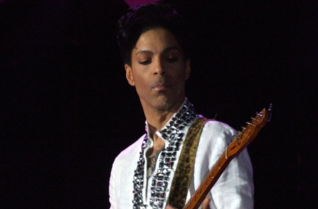 Compared to many rock musicians, Prince was relatively quiet about his political views. Many suspected he was a Republican so when he did begin to speak out in the last decade or so of his life — about the Black Lives Matter movement and the social changes sweeping America — people were listening.
"Like books and black lives, albums still matter," he said at the Grammys last year.
Last year he showed solidarity with the city of Baltimore as it was wracked by riots and protests following the death of Freddie Gray. He headlined a "Rally 4 Peace" concert — an event "meant to be a catalyst for pause and reflection following the outpouring of violence that has gripped Baltimore and areas throughout the US," his publicist said at the time. Attendees were asked to wear gray in solidarity. He recorded a track called "Baltimore" in which he sang:
Are we gonna see another day?
We're tired of crying and people dying
Let's take all the guns away.
The lyric video (below) incorporated news footage and coverage of the protests and the concert.
The Washington Post's Justin Moyer wrote last year:
Unlike peers such as Bruce Springsteen — whom Prince admires — he isn't typically found stumping for candidates or causes. Even "We Are the World," the 1985 hit single written to benefit Africa, went without his talents because he did not want to record with other artists.
He donated $2000 to a local GOP candidate in 1990 and he also spoke openly about his religious conversion to Jehovah's Witness in 2001 (he was raised a Seventh-Day Adventist) and what was reported as his opposition to same-sex marriage.
In a 2008 New Yorker profile, Claire Hoffman wrote:
"So here's how it is: you've got the Republicans, and basically they want to live according to this." He pointed to a Bible. "But there's the problem of interpretation, and you've got some churches, some people, basically doing things and saying it comes from here, but it doesn't. And then on the opposite end of the spectrum you've got blue, you've got the Democrats, and they're, like, 'You can do whatever you want.' Gay marriage, whatever. But neither of them is right."

When asked about his perspective on social issues—gay marriage, abortion—Prince tapped his Bible and said, "God came to earth and saw people sticking it wherever and doing it with whatever, and he just cleared it all out. He was, like, 'Enough.'"
Perez Hilton later reported that Prince's camp believed the artist was misquoted and that, in gesturing to the Bible, he was indicating a philosophy of "loving everyone and refraining from judgment."
[image via Wikicommons]
Have a tip we should know? tips@mediaite.com