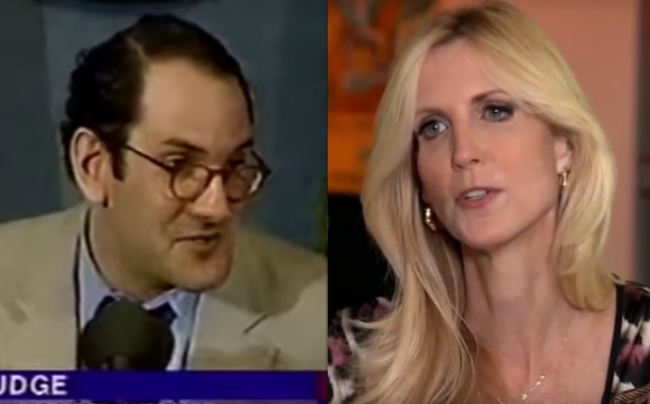 Ann Coulter launched an unusual broadside against Matt Drudge on Twitter, Thursday night, for posting "fake news" about her disputed appearance at the University of California, Berkeley.
Now @DRUDGE promoting FAKE NEWS:'Berkeley reverses decision to cancel speech by Coulter'… Idea: Read past the headline on a press release!

— Ann Coulter (@AnnCoulter) April 21, 2017
Coulter has used her Twitter feed in recent days to attack "fake news" about the controversy over her on-again, off-again lecture at the left-wing university.
The Drudge zinger stands out, however, as the two of them are known friends. The pair attended a NBA Finals game in June 2014.
The bestselling author revealed to Reuters on Thursday that she still planned to speak at Berkeley on April 27, despite the university announcing they had picked a new date for the event: May 2.
"So I'm planning on speaking on the 27th as scheduled. Maybe they will arrest me," she said.
Reuters pointed out that "the university's academic calendar shows that May 1-5 is a 'reading/ review/ recitation period' before final exams."
A Thursday report from The Hollywood Reporter also spotlighted how lawyers for two of the groups organizing the lecture are criticizing Berkeley over the May 2 date.
Associate vice chancellor Nils Gilman "grudgingly offered to allow the event from 1 p.m. to 3 p.m. on Tuesday, May 2 — during 'dead-week,' when students are not even in class," wrote Harmeet Dhillon of Dhillon Law Group in a letter to Berkeley interim vice chancellor of student affairs Stephen Sutton.
Dhillon also spotlighted how the university recently cancelled a planned lecture by conservative author David Horowitz, citing past rioting during a speech by Milo Yiannopoulos.
The attorney later contended that "Berkeley impermissibly has allowed a 'heckler's veto' to suppress the free-speech rights of speakers properly invited by recognized student groups." He added that the school is "now leading the vanguard to silence Conservative speech on campus."
[image via screengrab]
Have a tip we should know? tips@mediaite.com