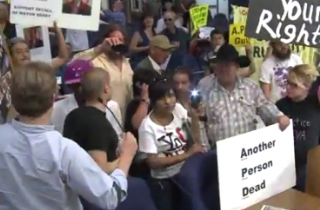 As we've been noting over the past couple of months, the situation between police and citizens in Albuquerque has become increasingly hostile. In the wake of the APD's killing of an unarmed homeless man, which followed a consistent pattern of lethal violence from the force, and led to numerous protests around the city, angry protestors last night seized control of a city council meeting.
Around 40 people commandeered control of the proceedings, the Albuquerque Journal reports, with some attempting to serve a people's arrest warrant to police chief Gordon Eden.
"This is no longer your meeting, this is the people's meeting," one protestor, David Correia, an assistant professor at the University of New Mexico, shouted into the microphone, in the video which can be seen below. As many of the council members left the chamber, the citizens announced they had agreed upon votes of no confidence for the city's mayor Richard Berry and his fellow administrator Rob Perry.
"We understand there are those in our community who have expressed concerns about APD issues related to the Department of Justice report," APD spokeswoman Janet Blair said in a statement after the meeting. "We are working hard to make proactive improvements now and in conjunction with DOJ recommendations. While we welcome constructive discussions, we do not believe disruption of tonight's city council meeting was a productive way to meet those goals."
City Council meetings have become the center of the outcry over the police force's shootings of late.
The city has come under further scrutiny after a recent Department of Justice investigation into the police force found a troubling pattern of abuse. The report, as the Washington Post points out, found "a pattern or practice of use of excessive force," and said that the ABQ PD "used deadly force against people who posed a minimal threat, including individuals who posed a threat only to themselves or who were unarmed," and that "Officers also used deadly force in situations where the conduct of the officers heightened the danger and contributed to the need to use force."
The most recent police shooting took place over the weekend.
Watch below, via KRQE:
— —
>> Luke O'Neil is a journalist and blogger in Boston. Follow him on Twitter (@lukeoneil47).
Have a tip we should know? tips@mediaite.com