Rachel Maddow Candidly Discusses Her 'Cyclical Depression' With Rolling Stone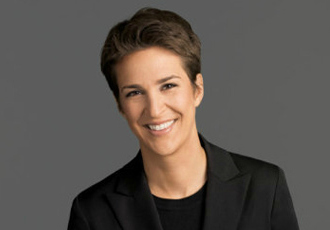 In the latest edition of Rolling Stone, Ben Wallace-Wells profiled MSNBC's Rachel Maddow, at times discussing her darker side which includes a "cyclical" bout with depression.
Known for her unusually cheery disposition, Maddow explained that she is actually "as rage-filled as the next guy," with an anger often directed harshly at herself: "Yesterday was like a four-star show, I was totally into it," she told the magazine. "Today and Monday – like, blaagh. Like, doesn't get any worse. I've been doing this for four years! Why do I still have one-star shows? It's me – failure."
"Oh, another bad thing about myself is that I've allowed you to see that I'm hard on myself," she continued. "The fact that you're seeing me sweat is like, 'Ah, well, I'm failing on that, too.'"
All of this is part of what Maddow's suffering from what she calls "cyclical" depression. She told Wells: "One of the manifestations of depression for me is that I lose my will. And I thereby lose my ability to focus. I don't think I'll ever have the day-to-day consistency in my performance that something like This American Life has. If I'm not depressed and I'm on and I can focus and I can think through something hard and without interruption and without existential emptiness that comes from depression, that gives me – not mania. But I exalt. I exalt in not being depressed."
This is not the first time Maddow has candidly discussed her struggles with depression. Earlier this year, she talked to NPR about it, saying that "Ever since I was 11 or 12, I've had cyclical depression. That's something that has been a defining feature of my life as an adult. … When you are depressed, it's like the rest of the world is the mother ship, and you're out there on a little pod and your line gets cut and you don't connect with anything. You sort of disappear. And so it's not something you can talk-therapy out of. It's really a chemical thing. You get adrenaline from work, but adrenaline is not a cure."
"I see my job as making a TV show. I fail at it – constantly. And that's all I can think about," Maddow told Rolling Stone, explaining a great deal of her anxiety and depression issues.
Check out the full Rolling Stone profile here.
>> Follow Andrew Kirell (@AndrewKirell) on Twitter
Have a tip we should know? tips@mediaite.com