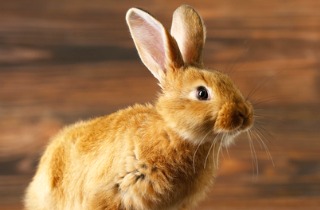 A radio station in Denmark is defending the decision of one of their hosts to kill a rabbit live on the air and then cook it. Radio24syv claims that this was all about raising awareness about animal rights hypocrisy.
Asger Juhl killed the rabbit on-air after getting, as the station's managing director told CNN, "very detailed instructions from a person working at a zoo who kills rabbits for food for animals at the zoo."
Of course, there was lots of outrage about the rabbit's death, leading to this Change.org petition to get Juhl fired. It has over 2000 signatures so far.
Radio24syv posted a lengthy defense of his actions on its Facebook page, pointing to the horrible conditions animals suffer all the time with absolutely no reaction from consumers.
The goal of killing and eating the rabbit, they say, was to expose hypocrisy:
We knew that we would be accused of provocation. And yes, we indeed wanted to provoke the public and to stir a debate about the hypocrisy when it comes to perceptions of cruelty towards animals.

But it is not an empty provocation; the presenters of the program ate the animal after killing it.

Consumers generally do not kill animals themselves, but we buy and eat animals, that have lead sad lives. We just don't see it, and don't consider the animals 'cute' as the rabbit.

These animals have often endured horrific suffering on their way to our dinner tables. These animals are killed according to the same controlled conditions as our studio rabbit, and without it invoking any strong reactions or calls for boycott. We at least believe that the studio rabbit have had a comfortable existence.

We wanted to expose the vast hypocrisy surrounding our relationship with animals. So far we have succeeded.
They also posted a video on their Facebook page of the rabbit being cooked.
[h/t NBC News]
[image via screengrab]
— —
Follow Josh Feldman on Twitter: @feldmaniac
Have a tip we should know? tips@mediaite.com
Josh Feldman - Senior Editor