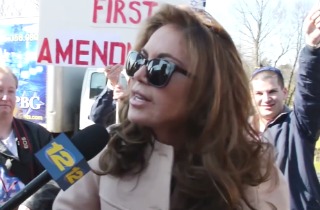 Pamela Geller is continuing her crusade against political correctness with a new ad campaign to bring First Amendment messages to downtown D.C. This campaign is set to feature the winning cartoon of the "Draw Muhammad" contest from earlier this month, which has been submitted for placement on buses and metro trains.
Geller is the president and co-founder of the American Freedom Defense Initiative, which described the campaign as their latest effort to stand up to media censorship, particularly regarding the sensitive elements of Islam. "Drawing Muhammad is not illegal under American law, but only under Islamic law," Geller wrote in a statement to Brietbart.com. "Violence that arises over the cartoons is solely the responsibility of the Islamic jihadists who perpetrate it."
Geller drew nationwide attention earlier this month when the AFDI's contest in Garland, Texas came under attack by two ISIS-inspired jihadis. Despite concerns that the AFDI's speech was deliberately provocative towards Muslims, Geller defended her contest, and announced her intention to hold similar events in the future. "We cannot submit to the assassin's veto," she said.
The AFDI's campaign has been submitted to the Washington Metropolitan Transit Authority, and would place the bulk of its ads around Foggy Bottom, Capitol South, Bethesda, L'Enfant Plaza, and Shady Grove stations. Geller hopes that this will be the first step of a larger initiative for free speech, saying that just because something is offensive, it doesn't justify censorship.
"Let the American people see what the cowardly press is censoring in accordance with the blasphemy laws under the Shariah," Geller said in announcing the campaign.
[h/t Brietbart.com]
[Image via Screengrab]
— —
Have a tip we should know? tips@mediaite.com