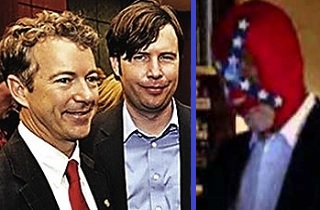 At the risk of losing the support of the Chris Hayeses of the world, Senator Rand Paul (R-KY) has come out strongly in defense of Jack Hunter, also known as the Lincoln-hating, John Wilkes Booth-loving Southern Avenger. In an interview with The Huffington Post's Howard Fineman, Sen. Paul not only backed his embattled new media director, but also revealed that he's not so keen on Overrated Emancipator Abraham Lincoln, either, and that he equates the hiring of a top-level staffer with the granting of an interview. Most importantly, though, he wonders how anyone is supposed to keep track of every high-level staffer who runs around in a Confederate flag wrestling mask. I mean, who among us, right?
In case you missed it, the conservative Washington Free Beacon ran an exposé, this week, detailing the exploits of Hunter's Southern Avenger, and of views which he publicly defended until very recently. For many Americans, particularly those the GOP is supposed to be reaching out to, the Confederate mask is probably enough, but there is much, much more. However, as Rand Paul wisely points out to Howard Fineman, Hunter meets the high bar of not being guilty of doing anything that Rand Paul can see as overt discrimination:
"People are calling him a white supremacist," Paul told me in his Senate office. "If I thought he was a white supremacist, he would be fired immediately. If I thought he would treat anybody on the color of their skin different that others, I'd fire him immediately.

"All I can say is, we have a zero tolerance policy for anybody who displays discriminatory behavior or belief in discriminating against people based on the color of their skin, their religion, their sexual orientation, anything like that," Paul told me. "We won't tolerate any of that, and I've seen no evidence of that.
Yes, where would anyone get an idea like that? Maybe from his argument that millions of deplorable Mexicans will ruin America, which he somehow supports with the fact that whites ruined America for the Native Americans?
That Americans, white or otherwise, don't want Spanish-speaking people dominating their airwaves, neighborhoods or country is no more racist than Mexico's lack of interest in Seinfeld. Native Americans had no illusions about how their land would change as boatloads of white men landed on their shores and modern Americans aren't wrong to deplore the millions of Mexicans coming here now. A non-white majority America would simply cease to be America for reasons that are as numerous as they are obvious – whether we are supposed to mention them or not.
That was way back in 2007, though. It was another time, I'm sure. Or maybe it's Hunter's longing for an Old South that just happened to coincidentally but in no way connected to that longing include the enslavement of black people by whites. He enjoyed the Confederacy for the articles.
Paul did cop to not being a "fan" of secession, and while he says he believes that Abraham Lincoln was one of our greatest presidents, he wasn't all that:
"I'm not a fan of secession," Paul said. "I think the things he said about John Wilkes Booth are absolutely stupid. I think Lincoln was one of our greatest presidents. Do I think Lincoln was wrong is taking away the freedom of the press and the right of habeas corpus? Yeah.

"There were great people who were for emancipation. Lincoln came to his greatness. One Republican congressman described it as 'on borrowed plumage.' I love the description, because there were some great fighters [for emancipation] and Lincoln had to be pushed. But I'm not an enemy of Lincoln, like some who think he was an awful person."
Wait, so is that why we should drink an annual toast to John Wilkes Booth, because Lincoln didn't tyrannically end slavery fast enough?
Paul went on to compare his decision to hire Hunter with his decision to grant Howard Fineman an interview, and might have actually hired Fineman to work on his campaign, I'm not clear about that.
The bottom line, though, is that shouldn't politicians be free to agree to disagree with their top-level staff on the little stuff? "What am I supposed to do?" Paul asked Fineman. "I'm going to have a lot of people working for me. They've all got writings and opinions."
Rand Paul's decision to back Hunter is entirely consistent, and will serve him well with the aggrieved white voters that Republicans are counting on now. It will also serve Hillary Clinton well, should Paul be nominated to lose to her in 2016.
Have a tip we should know? tips@mediaite.com