Rand Paul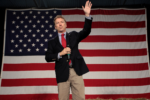 Rand Paul is a conservative politician who has been serving as the Senator from Kentucky since 2011. He ran for president in 2016. He is the son of Ron Paul who ran for president in 1988, 2008 and 2012. Rand Paul graduated from Baylor University and Duke University School of Medicine. Before entering politics he practiced ophthalmology.
Rand Paul Q&A
Is Rand Paul a Republican?
He is a described Constitutional conservative and a supporter of the Tea Party movement.
Is Rand Paul a doctor?
He has an MD and practiced ophthalmology for 18 years.
Rand Paul Noteworthy Stories
July 17, 2019
Rand Paul blocks bill on 9/11 Victim's Compensation Fund.
November 23, 2015
Rand Paul says Boston Bombers were coddled as refugees but still tried to attack us.
July 30, 2014
Rand Paul says to MSNBC host: "When your network does 24-hour news telling the truth, then maybe we can get somewhere with the discussion."