Redditor Who Reportedly Created Trump's CNN-Wrestling GIF Apologizes: 'It Was a Prank'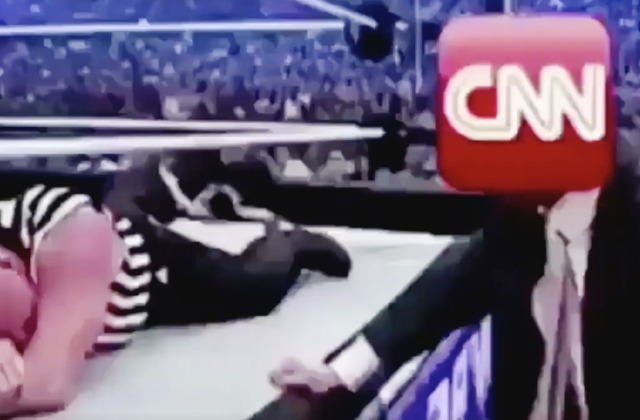 The Reddit user who allegedly created President Trump's CNN-takedown meme is offering an apology to the media after erasing his online history.
The Reddit account "HanAssholeSolo" has taken credit for the original version of the photoshopped video Trump tweeted out amid his recent screeds against CNN. "HanAssholeSolo" took pleasure in the supposed recognition, seeing as he previously celebrated about how he posted the GIF on a pro-Trump subreddit several days beforehand.
When the Redditor was identified as the meme's possible creator, the world also took notice of the threatening, prejudicial comments he made against a wide variety of groups. The posts have been deleted since then, and here's what "HanAssholeSolo"'s Reddit page currently looks like:

Both posts have been locked, but the apologetic statement was picked up by Buzzfeed's Brandon Wall:
Redditor HanAssholeSolo, the guy who posted the Trump/CNN clip the president tweeted, has apologized to @CNN, the media, and others pic.twitter.com/GlePoiSlFj

— Brandon Wall (@Walldo) July 4, 2017
"Free speech is a right we all have, but it shouldn't be used in the manner that it was in the posts that were put on this site…I do not advocate violence against the press and the meme I posted was in no way advocating that in any way, shape or form. Our First Amendment protect the press from things like violence, and we as American citizens should respect that even if the opinions of the press are not in line with our own. The meme was created purely as satire, it was not meant to be a call to violence against CNN or any other news affiliation. I had no idea anyone would take it and put sound to it and then have it put up on the president's Twitter feed. It was a prank, nothing more."
The White House has denied that Trump got the video he tweeted from Reddit.
[Image via screengrab]
— —
>> Follow Ken Meyer (@KenMeyer91) on Twitter
Have a tip we should know? [email protected]