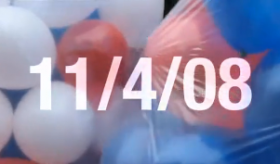 What does History look like? In the weeks leading up to the historic 2008 election, filmmaker Jeff Deutchman wondered just that, and decided to capture it. Armed with his own cameras, he set out to chronicle that day as he experienced it — and sent out an open invitation for others from around the world to contribute their own images, footage and stories from the day Barack Obama was elected President of the United States — a.k.a., the day when the country voted for Hope.
That was over a year ago, and boy have things changes. Let's just say that Obama has not left his supporters from 11/04/08 feeling as fulfilled as they might have hoped. But that day was an enormously important one for the country, and though its memory is now framed by Obama's actual presidency — small detail, that — the day itself and all it stood for remains an important historical cornerstone. Which makes this documentary a key historical document.
And an evolving one. Though the film is now completed and will debut at the SXSW Film Festival in March, the community surrounding the film is and will remain interactive, soliciting and collecting submitted images from that day. Said filmmaker Deutschman via email: "The goal is to start re-engaging people in the democratic process – not just by raising awareness of this film – but by encouraging them to upload their own footage to our website so they can partake in the writing of history."
Here is the just-released trailer, hot off the presses:
And here is Deutchman's account of the making of this film, and what motivated him to do it. Calling it "a Groundhog Day of my own creation," Deutschman writes:
There are many compelling arguments that the Obama administration has missed opportunities in the last year, however much of the problem lies on the part of expectations. The concept of "making history," hammered into the Obama camp's minds by the repeated call for "change," is tricky. Obama may be black and young and have a Muslim father – facts that cannot be overstated but provide the limit of the indisputable historical shifts – but he became President through pragmatism, compromise and incrementalism. Anyone expecting sudden drastic policy shifts wasn't paying attention to the candidate.

And yet, for a filmmaker, these kinds of expectations provide an interesting opportunity. If we as a people – and I don't completely exclude myself from being swept away in these ideas – expect a single day to represent significant historical change, how will we act? What kind of behavior, emotions, and associations will this bring out in us? What will "history" look like?

…In the months following 11/4/08, I received footage from over a dozen cities around the world – from Homer, Alaska to Austin, Texas to Chicago, Illinois to Berlin to Dubai. As I edited together a feature documentary from this footage, I watched these images over and over again, living in a Groundhog Day of my own creation as the world was moving on and becoming cynical.
Watching this trailer, it all comes back — the excitement, the emotion, and yes the hope of that day. It's an interesting time for 11/4/08 to come on the scene, in the wake of Obama's chequered first year — not to mention the day that Scott Brown officially becomes a Senator! — and looking ahead now to the 2010 midterm elections. The reminder of what that day felt like then may make some voters feel duped in retrospect — or may remind them of just what they were voting for that day, and why.
A Groundhog Day of My Own Creation [Mediaite]
11/04/08 Photo Page [Facebook]
SXSW Film Festival Lineup [NYT]
SXSW 2010 Film Program – Emerging Visions [SXSW]
Have a tip we should know? tips@mediaite.com