Report Alleges Tonight Show Host Jimmy Fallon's Injuries Due to Excessive Drinking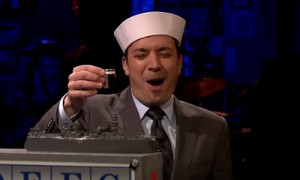 According to a new report, late night television personality Jimmy Fallon apparently has a bit of a drinking problem, which is why the comedian has injured himself so many times during the past few months.
The Tonight Show host has had his fair share of recent spills. First, he nearly broke his finger off when his wedding band got caught on the counter in a freak slipping incident in his kitchen in June. Two months later, he chipped his tooth while trying to open a bottle of healing salve for his finger injury. Last week, he cut his fingers on a broken bottle of Jägermeister at a ceremony held in his honor by Harvard University.
The popular narrative has been that Fallon is a major klutz, incapable of doing almost anything without injuring himself in some small, yet gruesome manner. However, a report in the New York Post alleges that the real cause of the talk show host's troubles is his excessive drinking.
An unnamed industry insider quoted by the NYP said that Fallon's apparent behavior has "gone from being a whisper to a chatter" in the halls of the NBC offices in New York.
"There is so much money at stake, the pressure is enormous. [Besides doing the show daily], they're looking for the next viral thing to hit. He has to do calls with affiliates and sponsors," said another source. "He has no outlet. He's young. He's still learning. You forget he hasn't been doing this 10 years."
In addition, an NBC insider speaking on condition of anonymity told the paper that Fallon "likes to have a good time" since "his show takes a lot of work" and "he has to learn songs and dances." Combined with his reported drinking and partying habits, it's why Fallon's colleagues and executives refer to him as "a big kid."
Of course all of this should be taken with a massive grain of salt. All of the NYP's quoted industry sources are anonymous and unnamed. That, or they're all bartenders who claim to have served Fallon on numerous occasions at their respective establishments. Servers who call the Tonight Show host a "mess" and suggest that "everything you've heard [about his behavior] is true." Yet the report quotes several previously published stories, some reputable and some not, about Fallon's supposed problem.
Plus, they interviewed Sam Jones, the photographer who did the recent Vanity Fair cover that included Fallon and all the other major late night talk show hosts currently working. According to him, Fallon said he didn't "want to have a drink in the picture," which is why he's the only one on the cover sans drink in hand. NYP infers that the omission could signal efforts by Fallon (or his NBC reps) to avoid public images pairing the host with alcohol.
[h/t Death and Taxes]
[Image via screengrab]
— —
>> Follow Andrew Husband (@AndrewHusband) on Twitter
Have a tip we should know? tips@mediaite.com