Report: Debate Officials Stopped Bill Clinton's Accusers From Sitting in Trump Family Box Last Minute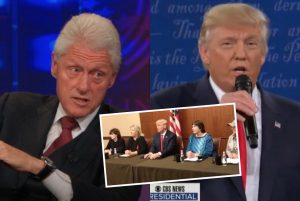 According to The Washington Post, debate officials from the bipartisan Commission on Presidential Debates intervened late Sunday to thwart a plot that would have pinned Bill Clinton up against three woman who have long accused him of sexual abuse of assault.
The plan was allegedly, but perhaps unsurprisingly, devised by Stephen K. Bannon of Breitbart and the Trump campaign, along with Ivanka Trump's husband Jared Kushner.
The Trump camp had hoped to pin the women — Paula Jones, Kathleen Willey and Juanita Broaddrick — into a situation there they had to greet the former President live and on national television cameras. Instead, Clinton walked out and greeted Melania Trump just as he had done before the first debate at Hofstra. Trump's three oldest children also made the walk out.
Former New York City Mayor and current Trump surrogate Rudy Giuliani admitted to the botched plan. "We were going to put the four women in the VIP box… We had it all set. We wanted to have them shake hands with Bill, to see if Bill would shake hands with them." The fourth woman included Kathy Shelton, who was 12-years-old when she accused a 41-year-old man of rape who Hillary Clinton defended at the time by court appointment.
The plan was allegedly put to an end by Frank J. Fahrenkopf, the commission's co-chairman and former chairman of the RNC. "Fahrenkopf tartly warned a Trump staffer that if the campaign tried to put the four women in the family box, security personnel would remove them, according to people with direct knowledge of the conversations," WaPo writes. The four women had previously appeared alongside Donald Trump in a pre-debate photo op that the candidate live streamed to Facebook an hour before the start of the event.
Giuliani admitted that they pulled the stunt before it could happen. "We pulled it because we were going to have a big incident on national TV," he said after the fact. "Frank Fahrenkopf stopped us and we weren't going to have a fight on national TV with the commission to start the debate."
—
[h/t WaPo]
[images via screengrab]
Have a tip we should know? tips@mediaite.com