Report: George H.W. Bush Backs Mitt Romney For Nomination, But Won't Give Full Endorsement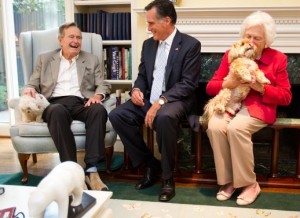 In an interview with the Houston Chronicle, George H.W. Bush — America's 41st President — told Joe Holley that he is backing Mitt Romney in his bid for the GOP nomination.
"I think Romney's the best choice for us," Bush told Holley. "He's a fine person. I just think he's mature and reasonable – not a bomb-thrower."
The words of support weren't an official endorsement, partially because Bush believes party leaders don't traditionally endorse candidates during the primaries. Also, Bush lives in Texas, where Romney's rival, Rick Perry, is currently the governor. "I've got to be a little careful," he told Holley, "because I like Perry; he's our governor." Bush did add that his decision to back Romney was a little easier because Perry, "doesn't seem to be going anywhere; he's not surging forward."
As for Newt Gingrich, Bush pointed out an issue the two had in 1990, when Gingrich backed out of a bipartisan appearance that Bush had specifically, as President, asked him to be in attendance for. Gingrich instead went to the Capitol and started lobbying against a tax deal. "I'm not his biggest advocate," Bush said.
RELATED: Chris Christie Defends Mitt Romney's Lack Of Stage Presence On Morning Joe
In a fun little twist to the story, MSNBC "broke news" of the Chronicle's scoop, using the old "Confirmed" trick. The network dressed up a confirmation of Bush's backing by NBC's Jamie Gangel and kiiiiind of brushed aside the fact that the Chronicle was the original source of the story. Still, analyst Michelle Bernard made a stellar point on why things may fall Romney's way.
"Romney might just be the only man left standing," Bernard said. "Not because people are voting for him, but simply through the process of elimination. He is the cooler head."
Read the full Chronicle story here, and watch MSNBC's confirmation of the Bush backing below:

(Image credit: Riley N. Pool)

Have a tip we should know? tips@mediaite.com