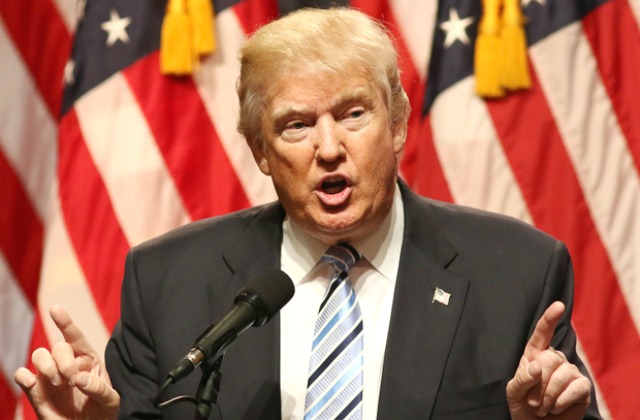 A new report in The Wall Street Journal tonight says that U.S. intelligence officials have "withheld" information from President Trump.
Why? Well…
U.S. intelligence officials have withheld sensitive intelligence from President Donald Trump because they are concerned it could be leaked or compromised, according to current and former officials familiar with the matter…

In some of these cases of withheld information, officials have decided not to show Mr. Trump the sources and methods that the intelligence agencies use to collect information, the current and former officials said. Those sources and methods could include, for instance, the means that an agency uses to spy on a foreign government.
There has been a lot of reported tension between Trump and many in the intel community, and the president himself has repeatedly slammed the leaks to the press this week.
One White House official told WSJ, "There is nothing that leads us to believe that this is an accurate account of what is actually happening."
The anonymous officials who spoke to the paper made it clear Trump has not been kept from "crucial information about security threats or potential plotting," but there's still that concern:
Intelligence officials have in the past not told a president or members of Congress about the ins and outs of how they ply their trade. At times, they have decided that secrecy is essential for protecting a source, and that all a president needs to know is what that source revealed and what the intelligence community thinks is important about it.

But in these previous cases in which information was withheld, the decision wasn't motivated by a concern about a president's trustworthiness or discretion, the current and former officials said.
This report comes on the heels of a report in the Observer days ago by John Schindler headlined "The Spy Revolt Against Trump Begins."
And in that report, Schindler wrote the following:
[O]ut of worries about the White House's ability to keep secrets, some of our spy agencies have begun withholding intelligence from the Oval Office. Why risk your most sensitive information if the president may ignore it anyway? A senior National Security Agency official explained that NSA was systematically holding back some of the "good stuff" from the White House, in an unprecedented move. For decades, NSA has prepared special reports for the president's eyes only, containing enormously sensitive intelligence. In the last three weeks, however, NSA has ceased doing this, fearing Trump and his staff cannot keep their best SIGINT secrets.

Since NSA provides something like 80 percent of the actionable intelligence in our government, what's being kept from the White House may be very significant indeed. However, such concerns are widely shared across the IC, and NSA doesn't appear to be the only agency withholding intelligence from the administration out of security fears.

What's going on was explained lucidly by a senior Pentagon intelligence official, who stated that "since January 20, we've assumed that the Kremlin has ears inside the SITROOM," meaning the White House Situation Room, the 5,500 square-foot conference room in the West Wing where the president and his top staffers get intelligence briefings. "There's not much the Russians don't know at this point," the official added in wry frustration.
You can read the full WSJ report here.
[image via screengrab]
— —
Follow Josh Feldman on Twitter: @feldmaniac
Have a tip we should know? tips@mediaite.com
Josh Feldman - Senior Editor