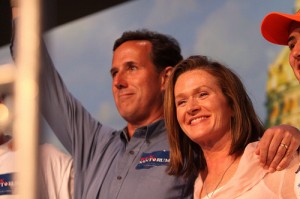 Presidential hopeful Rick Santorum's campaign has been marked in no small part by his adherence to a socially conservative platform, one tenet of which has been his denunciation of abortion. And Santorum's wife, Karen Santorum, has been right by his side throughout, helping him to spread his message. But, as Newsweek and the Daily Beast report, a look at Mrs. Santorum's past indicates she didn't always adhere so strictly to an anti-abortion platform.
RELATED: MSNBC Contributor Eugene Robinson On Rick Santorum's 'Weird' Reaction To Death Of Newborn
Before she was Mrs. Santorum, she was Karen Garver, a woman who spent the better part of her 20s living with Tom Allen, an obstetrician and abortion provider 40 years her senior, and the man who helped deliver her.
As Newsweek's Nancy Hass reports, Dr. Allen remembers Karen fondly:
"Karen was a lovely girl, very intelligent and sweet," says Allen, who at 92 uses a walker but retains a sly smile. A wine aficionado who frequented the Pittsburgh Symphony and was active in the local chapter of the ACLU, he lives with his wife of 16 years, Judi—they started dating in 1989, soon after he and Garver split—in the same large detached row house where he lived with the woman who would become Santorum's wife. He and Garver also lived for several years in another house a few blocks away. "Karen had no problems with what I did for a living," says Allen, who helped start one of the first hospital-sanctioned abortion clinics in Pennsylvania. "We never really discussed it." (The Santorum campaign did not return repeated requests for comment on the relationship.)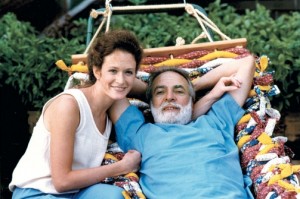 Although they first "met" the day Allen delivered her, they reconnected when Garver, then 22, called him, then 63 and a colleague of her father's, to inquire about a basement apartment. It wasn't too long before Karen moved upstairs with Allen.
The two remained together for six years, with Allen paying to straighten Karen's teeth, taking her on trips around the world, and buying her a piano. By all accounts, the two were happy, even though her parents and his grown children didn't exactly give their blessings. His profession, both according to Allen and to those who knew the couple, didn't seem to weigh too heavily on Garver.
The couple split amicably after Karen decided she wanted children (Allen wasn't interested in being a father again), and, not too long after, she met the man who would become her husband.
h/t Newsweek
Have a tip we should know? tips@mediaite.com