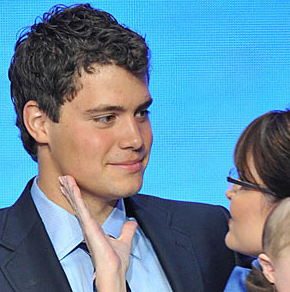 Nothing perks up a warm, muggy Thursday afternoon quite like checking in on Wasilla's second… third… well, there's…hmmm… seventeenth most famous export: Levi Johnston. Sadly, young Johnston has put his plans to overtake Hollywood on hold (a shame, because the fifth Fast and the Furious installment could really use his boyish charm), but that doesn't mean he'll quietly retreat into the shadows among the common riffraff. You see, Bristol Palin's former fiancé is currently angling for a spot on Oprah Winfrey's show.
Johnston's manager, Tank Jones, made the case for his client:
Oprah's had Bristol Palin and Sarah Palin, Levi wants to be on her show. He wants to tell his side of the story.
If indeed invited onto the show, Johnston would likely discuss his upcoming memoir, Deer in the Headlights: My Life in Sarah Palin's Crosshairs, which is set to be a heartwarming coming-of-age story about a young boy who falls deeply in love with a young girl, drinks deep from the red plastic Dixie cup of fame once his girlfriend's mother finds herself in the national spotlight, has an unplanned child, breaks up with said young girl, poses nude, then tries to obtain a spot on a popular talk show through a man who named Tank. It's a story to which many young Americans can relate, and it finally allows Johnston – a veritable fawn hunted down from a helicopter – to finally get some much-needed attention.
Do it, Oprah. For America.
h/t New York Post
Have a tip we should know? tips@mediaite.com