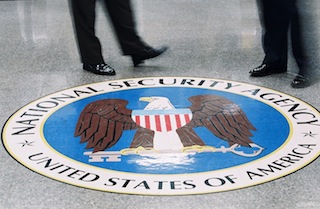 According to documents released by NSA-whistleblower Edward Snowden and obtained by the Huffington Post, the National Security Agency has been tracking the online porn-viewing habits of six Muslim suspects the agency believes to be involved in radicalizing others, part of an effort to exploit "personal vulnerabilities" to undermine charismatic authorities.
A 2012 document alleges that an "assessment report on radicalization indicated that radicalizers appear to be particularly vulnerable in the area of authority when their private and public behaviors are not consistent," including "viewing sexually explicit material online" and "using sexually explicit persuasive language when communicating with inexperienced young girls"—though the document also listed using donations for personal expenses or charging exorbitant speaking fees:

The six targets— all of whom reside in foreign countries, but one of whom was listed as a "U.S. person"—are not believed to be involved in terror plots, but are suspected of actively spreading al Qaeda propaganda. The NSA is also monitoring their contact lists.
"Without discussing specific individuals, it should not be surprising that the US Government uses all of the lawful tools at our disposal to impede the efforts of valid terrorist targets who seek to harm the nation and radicalize others to violence," Shawn Turner, a spokesman for National Intelligence, told HuffPost.
A former counsel for the organization described the use of surveillance to discredit recruiters as "fairer and maybe more humane" than bombing them, and said it could be thought of as "dropping the truth on them."
Civil rights groups were quick to denounce the revelation, as the NSA has been shown to be somewhat expansive in its surveillance operations.
[h/t HuffPost]
[Image via NYPost]
——
>> Follow Evan McMurry (@evanmcmurry) on Twitter
Have a tip we should know? [email protected]