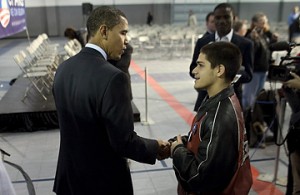 Obama has done a lot to stay in good graces with the American youth population who helped to get him elected. He had Beyonce sing at his inauguration (so hip!), he put some extra cash in their pockets for their college bills, he even made it possible for them to milk the last drop out of their parents' health insurance.
But according to The Daily Beast, the twentysomethings who followed his administration from the campaign trail to the White House are jumping ship, having finally lost faith in the "Yes We Can!" mentality.
Daily Beast political reporter Dayo Olopade found a laundry list of young council members, assistants, and aids who are ready for a change they can believe in, whether it be enrolling in graduate school or taking positions with other government officials.
Drawing a comparison to the Clinton administration (which saw a similar result among young staffers who had been charmed by the super cool new guy moving into 1600 Pennsylvania Avenue), Olopade highlights one key difference:
"The 18-month itch hits every administration. But this presidency is different. The young people working in the White House are supposed to be the truest of true believers. Countless postmortems attribute the Democratic Party's 2008 success to a unique surge in "Barack the Vote" enthusiasm among 18- to 34-year olds."
She is sure to point out the benefits that working at the White House provides to these kids – "Toasting health care's passage on the Truman Balcony of the White House, high-fiving members of the U.S. men's soccer team, or sitting in on international climate negotiations are unforgettable memories." – but she is also quick to concede that perhaps Kodak moments and warm fuzzy feelings aren't enough to keep these staffers hanging on.
After manning a grueling campaign they are working in an even more taxing political environment, and many are burnt out. There is also an educational gap that separates them from the more glamorous senior staffers who have degrees higher than their puny BAs. The general consensus: the Obama staffer experience isn't as exciting or educational as it is touted to be for hopeful youths.
Have a tip we should know? tips@mediaite.com