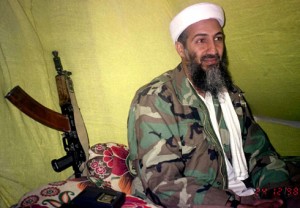 Since President Obama announced that U.S. military forces had captured and killed Osama bin Laden, there have been a myriad of reports on exactly what happened in the reported 40 minute raid that ended in the al Qaeda's death. The confused reports over whether bin Laden was armed or even resisting capture has led to some conspiracy theories on whether he was killed in a fire fight (as was originally reported) or as some have suggested, executed in cold blood. Now a credible report has surfaced that suggests although bin Laden wasn't brandishing a firearm, there were guns in the room where he was shot.
Writing for National Journal, Chris Strohm reports:
When special operations forces closed in on Osama bin Laden at his compound in Pakistan, they found him in a room with two guns, one of which was an AK-47 assault rifle, two lawmakers and a U.S. government official told National Journal on Wednesday.

The administration has confirmed that bin Laden was not armed when he was shot and killed on Sunday. But being in a room with weapons could bolster the administration's claim that it was necessary to kill the terrorist leader.

"He was not armed. The administration has confirmed that. But there were weapons in the room," said Rep. Jim Langevin, D-R.I., who serves on both the House Armed Services and House Intelligence committees.

"He did not have his hands on a weapon," Langevin added. The other lawmaker, who asked not to be identified, said the presence of the two guns added to concerns that bin Laden was dangerous and would not surrender peacefully.
Earlier today Savannah Guthrie quoted an unnamed White House official commenting on the rising criticism of how bin Laden was killed, who sadi "they weren't raiding a girl scout troop looking for overdue library books. They were on a kill mission for Osama bin Laden." Indeed.
Sadly, the skeptical and conspiratorial world in which we live in will see this report and immediately question its validity. Further, people that want to believe that the government has somehow fabricated this story from whole cloth, will never be satisfied by any account. The only real certainty is that the vast majority of those criticizing the various accounts of what exactly happened in Abbotabod on Monday morning local time have never been personally experienced such a raid and can't truly criticize how such an ordeal could have numerous reports that come from it.
Have a tip we should know? tips@mediaite.com