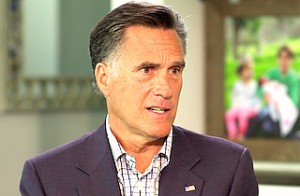 Mitt Romney is no longer recruiting potential candidates to mount a third-party conservative challenge to Donald Trump, though he continues to support the effort, according to a report in Yahoo News published Wednesday.
Yahoo News' Jon Ward quotes one Romney adviser as saying that the 2012 Republican nominee "feels like America hangs in the balance" and is "very distraught about" Trump. "He thinks Trump is this vulgar, dangerous, principle-less, value-less opportunist — putting it mildly."
The adviser added that Romney was distraught by the lack of a concerted effort to oppose Trump, especially given some of his remarks about retaliatory action he would like to take against the media.
"Where's the outrage?" he asked."This isn't Venezuela. A politician can't say 'I don't like the press coverage of this paper so I'm going to threaten the business of the person who owns it.' That is [former Venezuelan President Hugo] Chavez."
According to a report in the Washington Post last weekend, Romney had been involved in the effort to draft a conservative candidate to run an independent campaign. Potential candidates like Ohio Gov. John Kasich and Sen. Ben Sasse from Nebraska had reportedly turned them down.
Those close to Romney downplayed his involvement in the effort while highlighting his support for it:
"He thinks someone should run. That's his role. That's the beginning and end of it," the Romney adviser said. "Is he organizing it? No. But he has talked to people who have thought about it."
Have a tip we should know? tips@mediaite.com