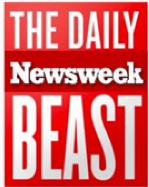 Throughout the past few month there have been many whispers that embattled print weekly Newsweek and the red-hot (and well funded) website The Daily Beast were in talks about merging their two businesses. A lot of people thought it made sense, the marraige of a print behemoth (with solid ad revenue) and a hip and cool online entity with a proven editorial hall of famer in Tina Brown. Alas, as Ms. Brown said recently, the two entities could not agree to terms on a prenup and the talks died without a deal. But no so fast – according to The Observer, it turns out that the merger may, in fact, be back on.
Writing for The Observer, Nick Summers exclusively reports:
It will be a 50-50 merger of the two companies. The editorial staffs will combine under the editorship of Tina Brown, who will again run a high-profile glossy.

Newsweek owner Sidney Harman, 92, and IAC chairman Barry Diller had for weeks disagreed over an operating structure for the hybrid publication. The deal reached today establishes a daily role for Mr. Harman and strong editorial independence for Ms. Brown.

As The Observer reported earlier today, talks between Mr. Harman and Mr. Diller never completely broke down, as the media world thought for weeks. The two men continued to meet and inched toward a deal. Tonight, they are hammering out a couple of sticking points, and will announce the new business tomorrow.
Back in August, the struggling weekly Newsweek was purchased by Sidney Harmon for the amount of $1, plus terms that the audio mogul would take on millions of dollars of debt. Some derided that decision as a vanity play, but if this report is true, he comes out looking like the 50% owner of a white hot property that has both a print ad revenue model and editorial expertise from Ms. Brown. There are sure to be lots of questions to be asked on what the future partnered entity will look like, and alas, this will likely result in lots of redundant positions (job losses) but the good news is that, at least Newsweek will live.
Trivia question: what do The Daily Beast and Newsweek have in common? Both have design elements from the creative force of Bonnie Seigler, who both oversaw the original design elements of The Daily Beast as well as the redesign of Newsweek. Perhaps she was on to something?
Have a tip we should know? tips@mediaite.com