Richard Simmons Uses Today Show Interview to Refute Rumors He's Being Held Hostage by Maid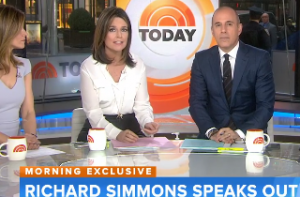 When I read headlines claiming that Richard Simmons might be being held hostage in his home by his maid, I was confused. I saw him at the Macy's Thanksgiving Day Parade, I remembered! Then, I realized that it had been three parades ago. Refusing to believe it, I looked into the ol' Mediaite archives. It really has been two years since he was spotted in the wild.
Oh no! I was shaken. Maybe he really was held hostage! But no. While talking to Savannah Guthrie and the rest of the Today Show  gang over the phone, he was pretty adamant about the fact that he just really values his alone time right now. Here:
"No one is holding me in my house as a hostage," he said. "You know, I do what I wanna do, as I've always done, so people should just sort of believe what I have to say, because, like, I'm Richard Simmons!"
Guthrie pressed him, asking about his housekeeper, Teresa Reveles, who is the person his friends are blaming for his sudden disappearance from public life. He dismissed her involvement altogether, saying he is making the decision to be alone by himself.
He assured his fans and friends that he loves them and, "not to worry; Richard's fine! You haven't seen the last of me!"
For the record, I believe him. We've interacted on Twitter, and as you know, that means we are best friends.
@lindseydawn_ xoxo

— Richard Simmons (@TheWeightSaint) April 1, 2014
[image via screengrab]
For more from Lindsey, follow her on Twitter.
Have a tip we should know? [email protected]