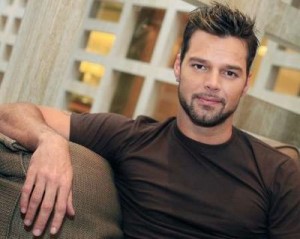 While most of the English-speaking world will respond with a resounding "Oh, I see" and a shrug, the announcement by Latin heartthrob Ricky Marty that he is, in fact, gay, is sure to be big news in many circles. Martin came out earlier today on his personal website in a long news post.
"If someone asked me today, "Ricky, what are you afraid of?" I would answer "the blood that runs through the streets of countries at war…child slavery, terrorism…the cynicism of some people in positions of power, the misinterpretation of faith." But fear of my truth? Not at all! On the contrary, It fills me with strength and courage. This is just what I need especially now that I am the father of two beautiful boys that are so full of light and who with their outlook teach me new things every day. To keep living as I did up until today would be to indirectly diminish the glow that my kids where born with. Enough is enough. This has to change. This was not supposed to happen 5 or 10 years ago, it is supposed to happen now. Today is my day, this is my time, and this is my moment.

These years in silence and reflection made me stronger and reminded me that acceptance has to come from within and that this kind of truth gives me the power to conquer emotions I didn't even know existed.

What will happen from now on? It doesn't matter. I can only focus on what's happening to me in this moment. The word "happiness" takes on a new meaning for me as of today. It has been a very intense process. Every word that I write in this letter is born out of love, acceptance, detachment and real contentment. Writing this is a solid step towards my inner peace and vital part of my evolution.

I am proud to say that I am a fortunate homosexual man. I am very blessed to be who I am."
The pop singer first entered the public eye when he joined the boy band Menudo in 1984. In 1990, he became a solo artist and was soon a world-wide sensation. Of course, most of our readers first heard him in 1999 when he released his first English-language album which featured the hit "Livin' la Vida Loca".
While the news today may be a surprise to some, it is something that Martin has been building to for years as he stepped in and out of the closet during interviews. In 1999, when the rumors of his sexuality first surfaced, he denied them in the magazine Plus 7 Days.
"I am a modern man, live a full life, do not feel any barriers inside myself. I perceive the contemporary world as an open forum, where nothing is taboo except criminal activity. If I were gay, why not admit it?…I am a normal man. I love women and sex. I am a real hot-blooded Puerto Rican, but I have never been attracted by sex with a man."
The denials continued for years, going as recently as June of 1999 when the Hispanic magazine TV Aqui hinted at an upcoming confession. The hint later turned out false when the interview they were teasing featured no outing.
Today, though, at the age of 38, Ricky Martin has finally admitted that he is gay. Good for him. Maybe he saw that 60 Minutes poll about openly gay presidents and was inspired. If anything though, this news just further proves the moral that if a celebrity has an entire section of their Wikipedia page dedicated to rumors about their sexuality, chances are good that a tell-all blog post is coming eventually.
Have a tip we should know? tips@mediaite.com