Roger Stone Doesn't Buy the Hype of Trump's Cabinet: Everybody Is 'Floating Their Own Name!'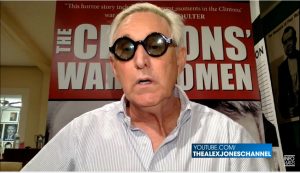 Ever since real estate mogul turned GOP candidate turned GOP nominee turned President-elect Donald Trump left the globe in a state of shock by winning the Presidency this week, the reports have been high-flying regarding cabinet appointments.
People have looked no further than the intimate team of surrogates, aides, and spokespeople who defended and worked for Trump on the campaign trail as the most likely candidates to fill key White House roles. A Trump administration, according to this logic, would feature many of the prominent names we've reported on over the course of the last year.
NBC News' Katy Tur and Benjy Sarlin this week offered their original reporting about names being floated for consideration: Rudy Giuliani for Attorney General, Newt Gingrich for Secretary of State, retired Lt. Gen Michael Flynn for defense secretary. Campaign Manager Kellyanne Conway confirmed over Twitter that she has been offered a position (Press Secretary, perhaps?), while Reince Priebus has increasingly looked like a candidate for Chief of Staff.
Then there's Steve Bannon, Jared Kushner, Steven Mnuchin, Sen. Jeff Sessions, Corey Lewandowski, and campaign secretary Hope Hicks, all floated with some degree of speculation for gainful employment in the administration.
But not so fast, says Roger Stone.
The longtime Trump ally spoke with Joe Piscopo on AM 970 THE ANSWER on Friday morning and said that any conversations regarding cabinet positions are premature at best.
"Right now, when you see a name in the newspaper — say, Corey Lewandowski, that he's going to be Chief of Staff — no he isn't," insisted Stone on Friday. "That's Corey Lewandowski floating his name."
"Everybody out there is floating their own name!" Stone continued to Piscopo. "'Rudy Giuliani's gonna be this,' 'Chris Christie's gonna be that.' I wouldn't bet the ranch on any of that. I don't think the president-elect has turned to those decisions yet."
"I am for the Trump revolution and I think he needs to be very careful not to open the door," Stone continued.
Listen above via The Joe Piscopo Show on AM 970 THE ANSWER.
—
[image via InfoWars screengrab]
Have a tip we should know? tips@mediaite.com