Roger Stone Reignites Feud With 'Tricky Ted,' Says Cruz Stabbed Trump in the Back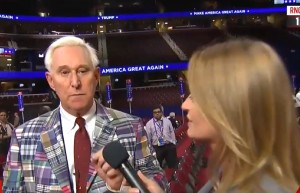 Former Trump advisor Roger Stone accused Ted Cruz of stabbing Donald Trump in the back with his speech Wednesday night.
Speaking to MSNBC's Katie Tur Thursday afternoon on the floor of the Quicken Loans Arena in Cleveland, Stone said, "Tricky Ted is a very treacherous fellow and he broke his word."
"Donald Trump looked magnanimous. He invited the guy who ran the toughest race against him to come to the podium and what he got was stabbed in the back," Stone continued.
Stone was a top advisor to Trump's campaign when it launched last June, but left the campaign a few months later. He has remained a loyal supporter. He praised Trump's current campaign manager Paul Manafort as a "very very clever fellow."
Stone and Cruz's mutual antipathy is a matter of record: Stone was instrumental in amplifying rumors that Cruz's father Rafael was somehow involved in JFK's assassination. Cruz referred to Stone as "Donald's henchman" and a "man with 50 years of dirty tricks behind him" whose reputation coined a word "for copulating with a rodent." ("Actually, I've seen some of the women that Ted Cruz is accused of hanging with. I think he's the one fucking rats," Stone told Politico in April.)
Stone's appearance on MSNBC is somewhat curious as he was banned in April from appearing on the network after posting several racist, incendiary tweets. CNN banned him in February.
[image via screengrab]
—
Have a tip we should know? tips@mediaite.com