RT Editor-in-Chief Speaks Out: Media 'Lambasting and Lynching' Our Journalists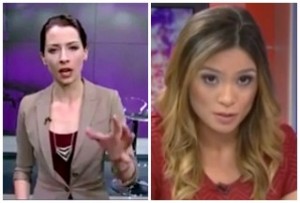 State-owned news agency Russia Today has become the news this week with two anchors publicly distancing themselves from management over the crisis in Ukraine (one of them resigning as a result), and in a new op-ed, RT editor-in-chief Margarita Simonyan lashes out at the rest of the media for piling on RT and "lambasting and lynching RT journalists."
Simonyan says she's shocked by how much RT is being "bullied," especially Abby Martin, who was hailed as bravely taking a stand against network propaganda before people found out she's a 9/11 truther and has issues with U.S. policy. Simonyan touts the great journalistic work they've done that "the Western mainstream media would have never done."
RELATED: RT's Abby Martin Goes Off on 'Corporate Media' Propaganda During Piers Morgan Interview
She cites a recent story RT did on a leaked phone call between European leaders to blast the rest of the media's priorities.
A couple of minutes after Liz made her statement, we found all the major news media in the world – as our exhausted spokeswoman put it, "CNN, NYT, pretty much everyone" – glowing with schadenfreude, as they lined up for official feedback from RT. This included those who had ignored the news of the Ashton-Paet phone leak revelation, as if it didn't happen. A rival media anchor's resignation is certainly much more newsworthy and more relevant to the Ukraine crisis than two European leaders saying opposition henchmen may have been killing people.
Simonyan proudly says RT "stands alone… face-to-face with thousands and tens of thousands of Western news outlets," and takes a shot at Liz Wahl for a "self-promotional stunt" that was orchestrated to secure "fantastic career prospects they wouldn't have dreamt of before."
You can read the full op-ed here.
[h/t Erik Wemple]
[photo via screengrab]
— —
Follow Josh Feldman on Twitter: @feldmaniac
Have a tip we should know? tips@mediaite.com
Josh Feldman - Senior Editor