UPDATE: Rubio Blasts Breitbart News Report Of Free Phones For Immigrants As 'False And Reckless'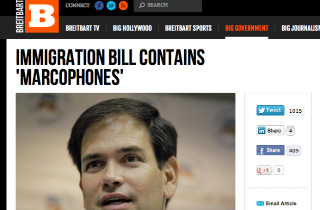 On Wednesday afternoon, Senator Marco Rubio took to Twitter to correct the record on "claims that immigration reform gives immigrants free cellphones," slamming such reports as "false and reckless." Rubio's Tweet linked to a fresh press release by his office, entitled: "MYTH vs. FACT: The Perils Of Pedding An 'Amnesty Phone' Myth," citing the 'false' media reports and including a transcript of his conversation with Laura Ingraham on The Laura Ingraham Show earlier today.
Various sites, including The Shark Tank and Breitbart, reported earlier today that the immigration bill provides a taxpayer funded phone to immigrants.


[Pictured above, The Shark Tank headline, April 17, 2013]


[Pictured above, Breitbart headline, April 17, 2013]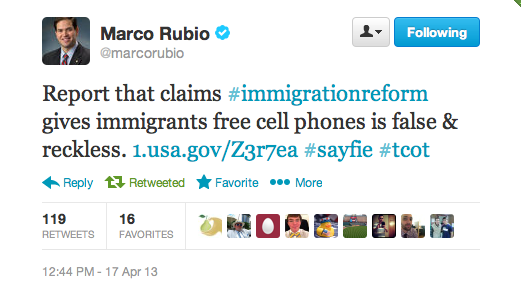 Senator Rubio's press release clarifies:
In addition to enhancing technology and fencing at the border, the "Border Security, Economic Opportunity and Immigration Modernization Act of 2013" includes a provision to give rural residents and business owners near the Mexican border access to cell service and phones so they can quickly report border violence to the police and the Department of Homeland Security. This provision was included in the "Border Security Enforcement Act of 2011", in response to the case of Robert Krentz, an Arizona rancher who was murdered on his property and did not have the ability to communicate directly with law enforcement because of his rural location. Giving people living and working on the Mexican border the ability to communicate directly with law enforcement is important to securing our border.
The Shark Tank updated its post, noting:


At press time of this article, Breitbart has not yet updated its article.
The relevant bill section, Section 1107, reads, in part:
SEC. 1107. ACCESS TO EMERGENCY PERSONNEL.
(a) SOUTHWEST BORDER REGION EMERGENCY COM- MUNICATIONS GRANTS.—
(1) IN GENERAL.—The Secretary, in consulta- tion with the governors of the States in the South- west Border region, shall establish a 2-year grant program, to be administered by the Secretary, to im- prove emergency communications in the Southwest Border region.
(2) ELIGIBILITY FOR GRANTS.—An individual is eligible to receive a grant under this subsection if the individual demonstrates that he or she—
(A) regularly resides or works in the Southwest Border region;
(B) is at greater risk of border violence due to the lack of cellular service at his or her residence or business and his or her proximity to the Southern border.
(3) USE OF GRANTS.—Grants awarded under
this subsection may be used to purchase satellite telephone communications systems and service that—
(A) can provide access to 9–1–1 service; and
(B) are equipped with global positioning systems.
(4) AUTHORIZATION OF APPROPRIATIONS.— There is authorized to be appropriated such sums as may be necessary to carry out the grant program es- tablished under this subsection.
UPDATE: Breitbart did post a 'correction' to its article on Wednesday evening, though not regarding the inaccuracy of the 'Marco-phones' but instead regarding the article's misspelling of a company name:

Click below for the clip from today's The Laura Ingraham Show in which Senator Rubio clarifies the intended use of the phones and Ingraham is skeptical of the need for such:
—
Follow AJ Delgado on Twitter >>> @missADelgado
Have a tip we should know? tips@mediaite.com