Rand Paul Hits Media's 'Unfair' Coverage Of Howard University Remarks: 'I'm A Little Sensitive'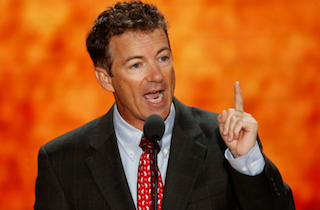 Sen. Rand Paul (R-KY) didn't get the best reviews when he recently spoke to students at Howard University. MSNBC's Rachel Maddow, for example, went after Paul for denying his past remarks on the Civil Rights Act, which he made on her show. During a breakfast organized by the Christian Science Monitor, Paul reacted to his trip to the university — and well as how the media covered it, which he felt "unfair."
RELATED: Rand Paul Randsplains How Republicans Lost The Black Vote: Black People Just Don't Understand
"It's unfair what the media tries to do to me on this," Paul said, according to the Huffington Post. "I'm a little sensitive to some of it."
Paul also followed up on another remark that caught people's attention, which was when he asked the students if they knew a Republican founded the NAACP (and was met with an impatient "yes"). The senator said "that was misreported" — and sought to clarify how he intended the comment:
"People say, 'Well, you should know the answer.' Well, that was part of the reason for going there, was I didn't know the answer," he said. "I said, 'Did they all know that the NAACP was founded by Republicans?' And in retrospect it sounds like it is a dumb question, but it's like, Republicans haven't been going to Howard for 20 years, so maybe by me going there I did learn something. And I did learn that everybody there knows, and I left there knowing that: Everybody there knows."
"There is a perception that Republicans don't like people of color, they don't like black people, brown people or people of different color skin," Paul noted, asserting that this image of the party simply isn't true. Underlining the importance of overcoming it, he advocated persistence.
"I'll keep trying," he said. "I don't give up easily."
(h/t HuffPost)
Have a tip we should know? tips@mediaite.com