Rush Limbaugh Clarifies For Media: 'I Did Not Tell People To Stop Watching Fox!'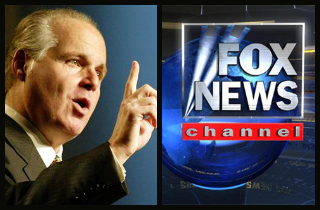 On his radio show this afternoon, Rush Limbaugh clarified for the media that remarks from his Monday show were not meant as a "blanket criticism" of Fox News.
Many news outlets, including our own, reported a particular exchange from Monday's show in which Limbaugh told a male caller to stop listening to "those people" after the man complained about Fox liberal contributor Julie Roginsky's remarks on a panel with the decidedly non-liberal Charles Payne and Neil Cavuto. "You need to stop watching these people, because they're not gonna change, Tony," Limbaugh told the caller.
That remark, Limbaugh said on Tuesday afternoon, was "was interpreted by people as a blanket, overall criticism of Fox. It wasn't!"
The comment, he said, was aimed at the liberal pundit class that are "designed to make you question your sanity." He maintained that he has criticized Fox News in the past, but this was not one such example: "Ever heard me talk about Geraldo [Rivera]? The Grim Reaper. It is I who has opined that whenever you see Geraldo on TV, somebody has died. That's when they drag him out. Is that telling people not to watch Fox?"
Limbaugh then reiterated his own claim that Fox & Friends producers asked him not to talk about immigration reform's impact on the Republican Party, but carefully noted that his thoughts on that ordeal do not mean he believes his listeners should not watch Fox.
Listen below, via The Rush Limbaugh Show:
— —
>> Follow Andrew Kirell (@AndrewKirell) on Twitter
Have a tip we should know? tips@mediaite.com